'The Deuce' Season 2 Trailer: Maggie Gyllenhaal And James Franco Are Back And Bound For Glory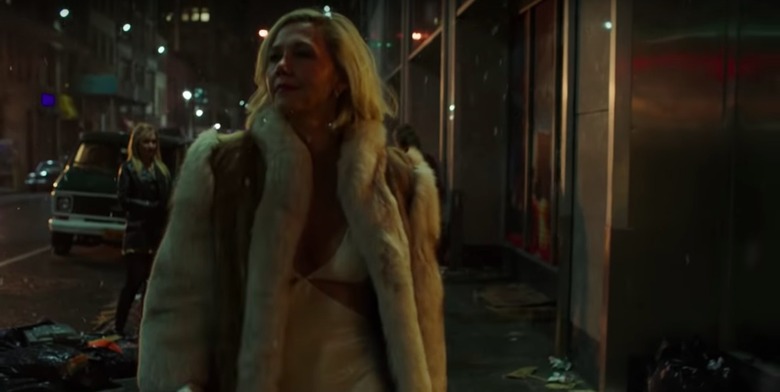 It's the height of the '70s, and business is a-booming for the characters of The Deuce. The HBO drama series jumps ahead five years for its second season, following Maggie Gyllenhaal's Eileen "Candy" Merrell, James Franco's Vincent Martino and Frankie Martino, Gbenga Akinnagbe's Larry Brown, and more as they navigate the seedy New York underworld and the burgeoning pornography industry.
The Deuce Season 2 Trailer
In the first teaser trailer for The Deuce season 2, the HBO series created by George Pelecanos and David Simon takes us to 1977, where many of our characters are thriving in the midst of the hugely popular, dubiously legal pornography industry. The teaser shows the expansion of the porn and sex industry in New York as it leads into the era of Studio 54, when disco and the tightening grip of organized crime ruled the city.
While some wondered if James Franco would appear in the sophomore season of The Deuce following his sexual misconduct allegations last year, it seems he'll be back at center stage. "We all felt comfortable with a second season" of The Deuce, HBO programming chief Casey Bloys insisted at the 2018 TCA's, according to Deadline. On the other hand, it's comforting to see in the teaser that the series standout, Gyllenhaal, will play an equal or possibly more prominent part in The Deuce season 2. Like Franco's character says in the trailer, the two of them are "bound for glory" together.
Here is the synopsis for The Deuce:
Created by George Pelecanos and David Simon, who also collaborated on HBO's "The Wire" and "Treme," the semifictional drama series "The Deuce" tells of the germination of the sex-trade industry in the heart of New York's Times Square. It's the early 1970s, and the porn business begins a shift from o
rganized crime-backed parlors to a legitimate, culturally accepted enterprise. A cast of barkeeps, prostitutes, pimps, police and nightlife seekers centers around twins Vincent and Frankie Martino (James Franco, in a dual role), who navigate the sex business after meeting well-connected mobster Rudy Pipilo. Their storyline, among others, merges with that of prostitute Candy, whose ambition and intelligence lead her to a more prominent role in the industry.
The Deuce season 2 premieres on HBO on September 9, 2018.