'Justice League' Actor Joe Morton Shot More Cyborg Scenes That Could End Up In Solo 'Cyborg Movie [Exclusive]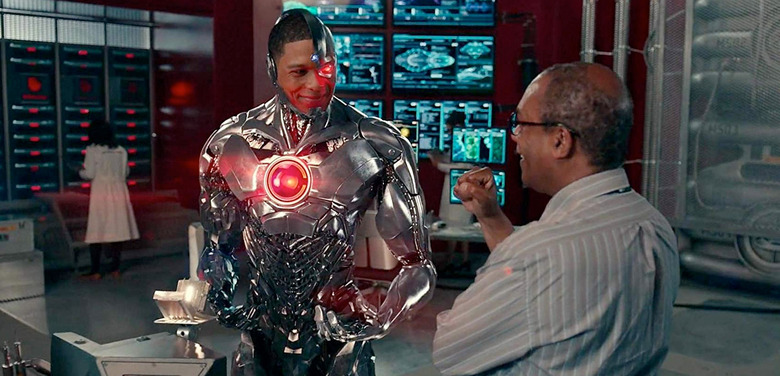 Terminator 2: Judgment Day star Joe Morton was on a Television Critics Association panel for his new CBS show God Friended Me. He plays the estranged father of an atheist podcaster (Brandon Michael Hall) who begins getting Facebook requests from God. The father/son relationship is further complicated because Morton's character is a preacher, but there's a different father/son relationship that you likely want to know more about from a certain DC Comics movie.
/Film asked Joe Morton about the status of the Cyborg movie first announced in 2014, which hasn't had any updates in recent years. He plays Silas Stone, the scientist father of Victor Stone (Ray Fisher) who builds his son a cyborg body after Victor suffers a catastrophic accident. Morton tells us what knows about the status of the developing Cyborg movie, how the Justice League reshoots changed his story and what that could mean for the solo film.
Cyborg Is Still Happening
After the declining box office of the DC Extended Universe films and the backlash against them, Warner Bros. decided to forego focusing only on the shared universe films in favor of standalone solo films featuring DC characters. Of course, Cyborg was always part of DC's forthcoming slate, and according to Morton, the character's solo film still on as far as he knows.
"I know there's supposed to be a Cyborg movie they're going to shoot in 2020," Morton said. "That's all I know. I haven't seen a script."
It should be noted that the supposed release date for a Cyborg movie was sometime in 2020, so maybe that's what Morton is referring to when he gives out that year. But it's always possible that Warner Bros. has plans for a Cyborg movie to get off the ground in 2020 and be released a couple years later.
Pieces of Zack Snyder's Justice League Cut Could Be Used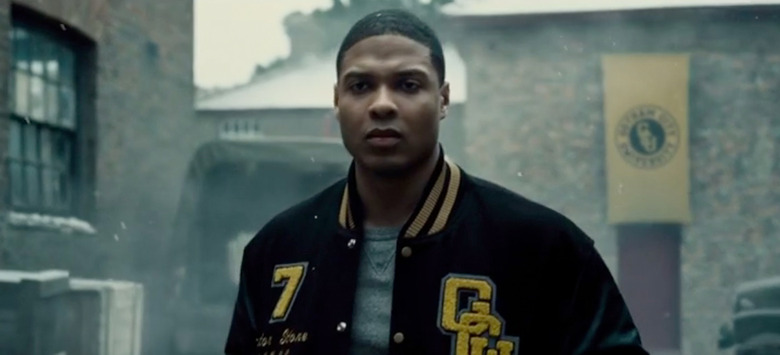 Joe Morton's character Silas Stone was first introduced in Batman v Superman: Dawn of Justice in the video Diana Prince (Gal Gadot) opens featuring all the future Justice League teammates showing off their powers. The character only has a few scenes in the final released version of Justice League, but Morton confirmed he shot a lot more.
"There was [more we shot]," Morton said. "They completely changed the story."
Here's where it gets interesting. The scenes they took out of Justice League could end up being rewritten into the Cyborg movie.
"Unfortunately, I can't tell you what [the original story] is because that might end up being in part of the Cyborg movie," Morton said. "Yes, there was a big change once they decided that they were going to do the Cyborg film."
Ever since Justice League opened, fans have been asking Warner Bros. to release the original cut of the movie Zack Snyder shot, with no Joss Whedon reshoot scenes. We know that includes scenes with Cyborg that were reshot to help change the tone of the movie. The studio claims Snyder never finished his cut so there is no Snyder cut to release. A storyboard artist who worked on the film disputes that, but the cut he's referring to likely doesn't exist in the form some fans think it does..
What Morton says sounds like anotherreason to keep the Snyder cut buried. If they still want to do the Cyborg story they took out of Justice League, it wouldn't be prudent to let that come out, especially if it's pieces of his backstory that might be better served in a Cyborg solo movie.
One Hint of the Story for Cyborg's Solo Movie
While Morton has not seen a script for a Cyborg movie, and he only knows what he shot for Justice League, the actor has still heard some plans for the Cyborg movie. It would involve his character and the rest of the Stone family.
"I think the idea is to deal more with his family so you watch the evolution of him becoming Cyborg," Morton said.
According to Morton, Cyborg is still on track for a 2020 release, but we'll see what happens.