Trailer Roundup: 'Twisted Pair', 'Love, Gilda', 'Final Score', 'Trust Machine'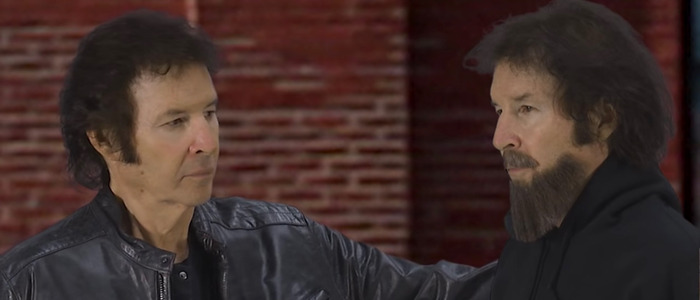 Sometimes, trailers slip through the cracks. That's when a good, old-fashioned trailer roundup comes in handy. Below you'll find an assortment of trailers for smaller, less-prominent films that you might have missed. There's something for everyone here, especially if you're a fan of Neil Breen.
Twisted Pair
Have you ever heard of Neil Breen? He's a writer, producer, actor and filmmaker, and possible alien from another planet. Breen helms truly strange films that have a very low budget, almost zero production value, and a remarkable ability to make the audience sit up and ask, "What the f*** is this?" Breen's latest masterpiece is Twisted Pair, and the trailer does not disappoint. This trailer kicks off with a bang, literally. Breen shows up playing a pair of identical twins standing in front of what looks like an screensaver. Things just get better/weirder from there, and we're treated to one of the worst (best?) fake beards in history. Watching this trailer, you start to think that maybe this is a very elaborate joke, and Breen is just messing with us. But I assure you, Breen is serious, and that makes it even better. Here's the film's synopsis, via it's equally amazing website:
"Identical twin brothers become hybrid A.I., Artificial Intelligence, entities, yet are torn in different directions to achieve justice for humanity."
Twisted Pair will be available for your viewing pleasure at some point, but if you ask me, it can't get here soon enough.
Love, Gilda
The life of Gilda Radner is chronicled in the new documentary Love, Gilda. Director Lisa D'Apolito assembles people who worked with Radner, and people who are in awe of her, to tell the story of Radner's life through archival footage and Radner's own writing. Radner was part of the original cast of Saturday Night Live. In fact, she was the first person cast on the show. And she went on to achieve fame and acclaim for her comedy. The doc sets out to be "a true autobiography, told in Gilda's words and in her own voice. Working with the Radner Estate, D'Apolito unearthed a collection of diaries and personal audio and videotapes documenting her childhood, her comedy career, her relationships and ultimately, her struggle with cancer." Based on this trailer alone, it's probably going to make you cry at least once. Love, Gilda opens September 21, 2018.
In her own words, comedienne Gilda Radner reflects on her life and career. Weaving together her recently discovered audiotapes, interviews with friends (Chevy Chase, Lorne Michaels, Laraine Newman, Paul Shaffer and Martin Short), rare home movies and diaries read by modern-day comedians inspired by Gilda (Bill Hader, Amy Poehler, Maya Rudolph and Cecily Strong), LOVE, GILDA opens up a unique window into the honest and whimsical world of a beloved performer whose greatest role was sharing her story.
Final Score
I've been enjoying the acting career Dave Bautista has been carving out for himself. He doesn't seem content to just stick to straight-up action roles, like most wrestlers-turned-actors. And he's willing to play against time. That's not to say he's not above the occasional dumb action flick, like this! Based on this trailer, Final Score is "Die Hard in a soccer stadium." Bautista has to deal with terrorists using Russian accents so thick and broad that they sound very close to yelling about "moose and squirrel!" Pierce Brosnan is also in here somewhere. Will Final Score be high art? Oh, heavens no. But Dave Bautista will probably have fun. Final Score arrives September 14, 2018.
After deadly terrorists abduct his niece at a soccer match, an ex-soldier with lethal fighting skills (Dave Bautista) wages a one-man war to save her and prevent mass destruction.
Trust Machine
Hello, I am An Old, so I don't really know what blockchain is. Even after watching this trailer for Trust Machine, a documentary about blockchain in which they say "blockchain" at least fifty times, I'm still not very sure. The documentary purports to "drill down on blockchain technology. Why are banks terrified while UNICEF embraces it to feed refugee children? Is blockchain technology poised to be bigger than the Internet or a bubble built on hype?" Whatever you say, Trust Machine! The film comes with the added bonus of being narrated by Rosario Dawson. It's also directed by Alex Winter, of Bill and Ted fame. Per Deadline, Trust Machine  will show on October 26, 2018 at Cinema Village, New York and on November 16, 2018 at Laemmle Monica, Los Angeles before hitting SingularDTV's online platform next year.