New Sony TVs Will Come With "Netflix Calibrated Mode" To Display Content As Filmmakers Intended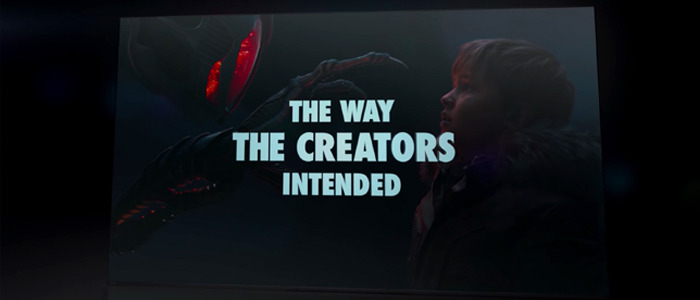 Historically, television manufacturers have not cared about the intentions of filmmakers when it comes to how movies and TV shows are displayed on different TV models. In fact, with the introduction of the dreaded motion smoothing effect, they've been actively degrading the quality of the consumer's experience in relation to how directors and cinematographers want people to watch their work.
But perhaps the tide is finally turning, because Sony has announced that its new top-of-the-line TVs will come with a setting called "Netflix Calibrated Mode" which will make Netflix content look as close as possible to how it would on a professional reference monitor.
The Hollywood Reporter has the news of what they're calling a "unique collaboration between a consumer electronics manufacturer and a content company." Sony teamed up directly with Netflix to create this new mode, which will (so far) only be available in certain sizes of the brand's high-end "Master series" OLED and LCD TVs.
With this new mode, the menu setting effectively takes picture information that might be used in a grading suite with a professional reference monitor, and applies it to the display of the program, with the goal of allowing Netflix viewers to get accurate color and contrast, including when they are viewing content in 4K resolution or high dynamic range (HDR). This feature, developed by Sony picture engineers with Netflix color scientists only works for Netflix content, at least in today's announced models.
During an unveiling ceremony of the new models in New York City, Lost in Space showrunner Zack Estrin told a crowd that he could not tell a difference between the image quality of the new Netflix Calibrated Mode-enabled TVs and the professional monitors he uses during the show's production.
Sounds great, right? Well, a Gizmodo reporter was on hand at the event and said that things aren't quite as perfect as this announcement makes it seem. First of all, those pro-grade monitors that Estrin uses? Those things cost $30,000. That's way more than these new consumer models will cost, so his claim that he couldn't tell the difference seems...well, slightly unrealistic on its face. (But hey, I haven't seen these myself, so maybe you really can't tell!)
Also, it seems as if this Netflix Calibrated Mode isn't exactly the easiest thing to find. Here's what Gizmodo says:
The new Netflix Calibrated Mode only works with the Netflix app on the Sony Master Series TV. (Set-top boxes don't get the privilege.) Once you're in the app, you have to navigate to the TV's settings and then toggle on the new picture mode, which is also just a baseline setting for all Netflix content. That means if you're watching a Netflix original Altered Carbon, the picture mode isn't tuned specifically for that specific content. Netflix Calibrated Mode is a baseline for all Netflix content.
So this seems like a one-size-fits-all approach, which will still require some tweaking for those savvy enough to want a high-end experience that's customized to whatever Netflix show or movie you're watching.
Scott Mirer, a vice president of device partner ecosystem at Netflix, told THR that since the goal was to reproduce the directors' creative intent, Sony was a natural partner, while a Sony representative "emphasized its desire to reproduce creative intent." I appreciate that they're taking steps in the right direction here, but if they want to show the world that they truly care about creative intent, they would either remove that godawful motion smoothing option from their TVs across the board or at the very least not make it the default option when people take the TVs out of the box.
If you're in the market for a new TV and you're willing to roll the dice on this, Netflix Calibrated Mode is going to be exclusively available for 65 and 55-inch models of Sony's A9F OLED Master series, and 75 and 65-inch models of the Z9F LCD, both of which will hit shelves sometime this fall.