Fox Expects 'The Simpsons' Producers To Make The Right Call In The Apu Controversy [TCA 2018]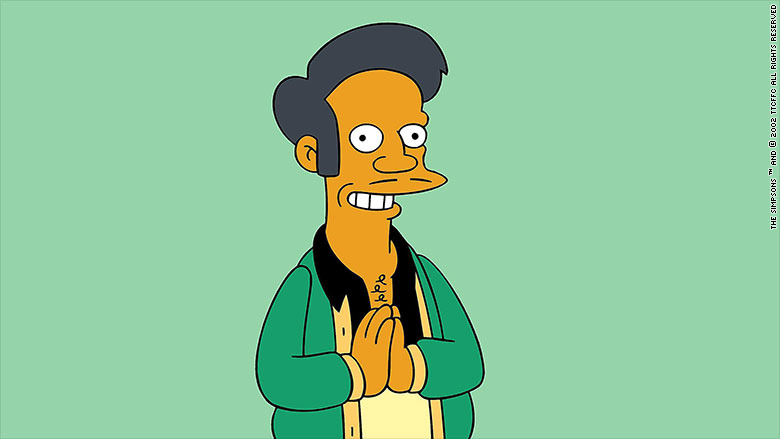 The Simpsons is about to enter its landmark 30th season, having already become the longest running scripted series in television history during its 29th. However, all the Simpsons milestones have been overshadowed by the controversy over its character Apu.
During the Fox executive session for the Television Critics Association, Fox Television Chairman and CEO Dana Walden told /Film that she has spoken with the creators of The Simpsons about this matter. Find out how the Fox brass feels the show's creators are handling the negative feedback, and how Simpsons creator Matt Groening responds to voice actor Hank Azaria's willingness to stop voicing Apu.
Fox Trusts The Simpsons To Make The Right Call
Hari Kondabolu's documentary The Problem with Apu gave Indians and Indian-Americans a voice to speak their feelings about the stereotypes Apu reinforces, not the least of which that it's caucasian actor Hank Azaria performing the voice.
It was The Simpsons' own response to The Problem with Apu that escalated matters. In the episode "No Good Read Goes Unpunished," Marge and Lisa discover a book with outdated stereotypes. Lisa ultimately comments, "Something that started decades ago and was applauded and inoffensive is now politically incorrect... What can you do?" The show then pans to an autographed photo of Apu, making clear this was the show's response to direct critiques.
"We have had conversations with Jim Brooks and his team," Walden said. "Basically we've left it up to them. I think that they've treated the show and the characters on the show with so much respect, we definitely trust them to handle it in a way that's best for their show. I'm not sure yet exactly what they're going to do. But ultimately, we all decided that was their decision."
Some of the Simpsons Producers Are Listening to the Backlash
The creators of The Simpsons have given mixed reactions since "No Good Read" aired. The day after the airing, they insisted that the episode spoke for itself and they would not comment. Later, showrunner Al Jean tweeted that they will continue to try to find find a solution.
.@TheSimpsons I truly appreciate all responses pro and con. Will continue to try to find an answer that is popular & more important right

— Al Jean (@AlJean) April 13, 2018
While promoting the show's landmark 636th episode, Matt Groening suggested, "People love to pretend they're offended." Later, while speaking to The New York TImes about his new Netflix show Disenchantment, Groening elaborated that he does not think Indians are pretending to be offended, but still feels they are picking the wrong battle.
Walden indicated that the team of Brooks, Jean and Groening were taking comments to heart.
"In a day of social media, where fans are able to have a very public forum and have these conversations, I can't say ultimately I was surprised [by the reaction to "No Good Read,]" Walden said. "I thought it was all good information for the creators to receive and I know that they focused a lot on what the reaction was. I'm sure that is partially informing how they will move forward."
Is Hank Azaria In or Out?
Hank Azaria declined to participate in The Problem With Apu, but since the documentary aired, he has been sympathetic. On The Late Show With Stephen Colbert, he said that he would be willing to step aside as the voice of Apu.
Groening himself was on a Netflix panel for Disenchantment on Sunday, but when /Film asked him if Azaria had talked to him about retiring as Apu's voice (one of many he does on The Simpsons), Groening said they hadn't.
"Haven't talked about it," Groening said. "Everybody gets a say on our show, but I'm proud of everything we do on The Simpsons."
Likewise, Walden told us during follow-up questions that she also has not spoken to Azaria since his Colbert appearance, and that was the first time she learned his position on the Apu matter.
Two years prior to "No Good Read," Utkarsh Ambudkar appeared as Apu's nephew Jay in the episode "Much Apu About Something," in which he criticized Apu for being a racial stereotype. That episode sparked considerably less online chatter, but was addressed in The Problem With Apu.
What Should The Simpsons do?
I have been a Simpsons fan for 30 years and have never missed a single episode. I want everybody to be able to love The Simpsons as much as I have for most of my life. If this one character makes it difficult or impossible for Indians and Indian-Americans to enjoy the show, I do not think it would compromise to 30-year history of the series to adjust Apu. In fact, it makes the show stronger to say, "Hey, we have been around for three decades. Our characters can evolve." Sort of like the way Smithers finally came out so he can be acknowledged as gay, which used to be an implied joke in less evolved times.
It could be as simple as Azaria retiring as the voice and recasting an Indian voice artist. If there's no way to continue Apu because there is too much baggage (which doesn't seem to be a facet of any of the criticism), it wouldn't be the end of the world to retire one Springfield resident. The show survived without Lionel Hutz and Troy McClure because there was just no replacing Phil Hartman. It can survive without Apu in the interest of extending an olive branch to a community of viewers. Again, they're not even asking for Apu to be eliminated.
"Much Apu About Something" did address the stereotype of Apu, but it ended with Apu continuing as is indefinitely, so that episode is not a Get Out of Jail Free card. Ambudkhar even described some jokes he pitched on the episode in The Problem With Apu. He even felt the "Much Apu" episode didn't go far enough, since his joke was rejected.
I also feel I cannot speak with true authority on this matter. This is about a depiction of a group to which I do not belong. I can only have empathy and wish that their concerns are addressed respectfully. I would love for some Indian reporters to get in the creators' and executives' faces, but if they're not here, I will continue to use my access to ask the questions they've presented. I'm listening.
I understand The Simpsons does not want to set the precedent of making drastic character changes due to online complaints. I feel Kondabolu, Ambudkhar and all of the people who participated in The Problem of Apu have made a strong enough case that goes beyond online complaining. The issue is: Apu needs to change. None of the hundreds of other Springfield characters do. If some trolls start a campaign about another character, it will be very easy to see the difference between that and the thought-out, well-reasoned case against Apu. It would go a much longer way to show a willingness to say, "Okay, maybe that's not a good joke. We can do better. We're The Simpsons."
The Simpsons returns September 30 at 8 PM on Fox.