Rebecca Ferguson Joins 'Men In Black' Spin-Off In A Mysterious Role [Updated]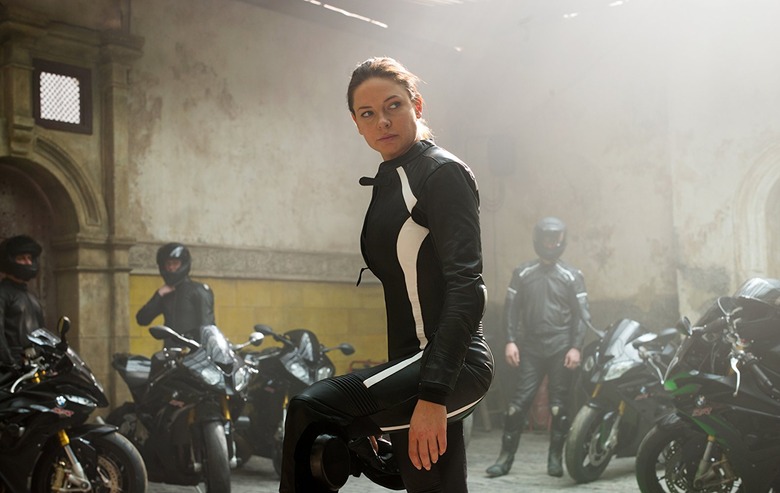 Update: Sony has sent out an update clarifying Rebecca Ferguson's role in the film...by making it less clear! It seems that the Mission: Impossible star is not playing the "female lead." That role still belongs to Tessa Thompson. And that's it. This makes us lean even harder on our (purely speculative!) original theory that Ferguson may be the villain in the film.
Our modified version of the original story continues below.
***
The "fallout" from Rebecca Ferguson's breakout success in the Mission: Impossible franchise is real. Ferguson stole the scenes in Mission: Impossible – Rogue Nation and its 2018 sequel Mission: Impossible – Fallout, so much so that fans declared her character to not only be an equal to Tom Cruise's Ethan Hunt, but that Ferguson herself was a star on par with one of "Hollywood's last movie stars." So we waited with bated breath for Ferguson's next big role. And while she impressed in The Greatest Showman, there was not yet a standout role that would do justice to Ferguson's overwhelming screen presence.
But maybe being cast in the Men in Black spin-off is a good start.
Ferguson will join the Men in Black spin-off cast in a lead role, according to Deadline. She'll be starring opposite Chris Hemsworth and Tessa Thompson, who play the new alien-policing partners in the film, which is intended to relaunch the sci-fi franchise that began with the 1997 Men in Black starring Will Smith and Tommy Lee Jones.
There are no details about who Ferguson will play, though it's possible that Ferguson will play another MIB agent or perhaps a villain who faces off against Hemsworth and Thompson's secret agents. Whatever the case, I hope her role gives her ample opportunity to either don another dress with a giant slit or a form-fitting motorcycle outfit. Though I'm sure Ferguson will be able to pull off the black suit, no sweat.
The as-yet-untitled Men in Black spin-off, directed by F. Gary Gray from a script by Iron Man writers Matt Holloway & Art Marcum, will reportedly be an ensemble piece that expands the Men in Black franchise to a global scale.
The cast also includes Liam Neeson, Kumail Nanjiani, and Rafe Spall, as well as returning Men in Black star Emma Thompson. Smith and Jones, who have stuck with the franchise for nearly two decades, aren't expected to reprise their roles as Agent J and Agent K, respectively.
The Men in Black spin-off is scheduled for a May 17, 2019 release date.