'If Beale Street Could Talk' Trailer: 'Moonlight' Director Barry Jenkins Reveals Footage From Next Movie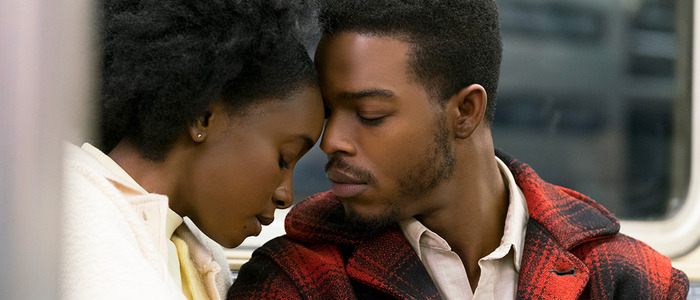 Moonlight director Barry Jenkins just revealed the first teaser trailer for this next film, If Beale Street Could Talk, and it looks incredible. Based on the novel by James Baldwin, the film focuses on a woman trying to free her falsely accused husband from prison. Watch the If Beale Street Could Talk trailer below.
If Beale Street Could Talk Trailer
For me, August 2nd has always been a day to pay tribute, so... a teaser of what's to come. Happy Birthday, Jimmy 🙏🏿🙌🏿♥️ pic.twitter.com/1Miu4jfWvg

— Barry Jenkins (@BarryJenkins) August 2, 2018
And here is the YouTube version:
The first footage from Barry Jenkins' new film has been revealed, by Barry Jenkins himself. Today – August 2 – is the birthday of author James Baldwin, and Jenkins debuted the trailer for his Baldwin adaptation in tribute. The footage on display here is stunning – James Laxton's cinematography looks truly breathtaking, and Jenkins' direction, particularly his use of characters gazing straight into the camera, is downright hypnotic at time. The footage features a narration of sorts from James Baldwin himself, with archival audio of the author.
Here's the book's synopsis.
Told through the eyes of Tish, a nineteen-year-old girl, in love with Fonny, a young sculptor who is the father of her child, Baldwin's story mixes the sweet and the sad. Tish and Fonny have pledged to get married, but Fonny is falsely accused of a terrible crime and imprisoned. Their families set out to clear his name, and as they face an uncertain future, the young lovers experience a kaleidoscope of emotions–affection, despair, and hope. In a love story that evokes the blues, where passion and sadness are inevitably intertwined, Baldwin has created two characters so alive and profoundly realized that they are unforgettably ingrained in the American psyche.
Beale Street marks the first time any James Baldwin work has been adapted into an English-language film, something that Jenkins acknowledged was difficult.  "It was a lot," the filmmaker said. "It was more about pruning in a certain way. It was about trying to coalesce the thoughts and ideas in the book into something that felt like cinema and not like literature."
"James Baldwin is a man of and ahead of his time; his interrogations of the American consciousness have remained relevant to this day," Jenkins said when the project was first announced. "To translate the power of Tish and Fonny's love to the screen in Baldwin's image is a dream I've long held dear. Working alongside the Baldwin Estate, I'm excited to finally make that dream come true."
Jenkins' adaptation stars Kiki Layne, Stephan James, Teyonah Parris, Regina King and Colman Domingo, and will have its world premiere at the Toronto Film Festival this September, before opening November 30, 2018.