'Marvel's Runaways' Season 2 Introduces The Hostel, More Comic Book Characters, And More Powers [TCA 2018]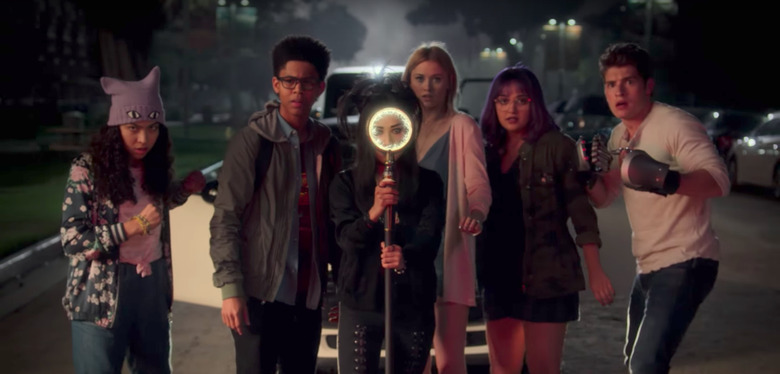 The Television Critics Association visited the set of Marvel's Runaways, which featured a familiar home to readers of the comic books. Season 2 will find the Runaways taking shelter in The Hostel. The only difference is it's no longer under the La Brea Tar Pits. It's under Griffith Park.
Sitting on the set with graffiti-strewn walls, salvaged computer parts and a pair of sneakers dangling from a chandelier, the cast and creators of Hulu's Marvel series discussed the second season. Picking up no more than 36 hours after the season finale, Josh Schwartz said the pace of season 2 ramps up from the leisurely first.
"It's going to accelerate," Schwartz said. "We are now running with our kids and I think we're now into that part of the story, that part of the adventure. Focus shifts now to these kids trying to survive on the streets. Obviously, they're kinds from Brentwood. They're not really made for living on the streets of Los Angeles. I think there's a greater sense of tension and momentum in keeping with where we are in this part of the story."
Marvel's Runaways introduced the six teens and 10 parents in season one, but that's not the entire canon of Runaways comics. Schwartz teased more comic book characters coming in season 2.
"There are some characters who appear in the book who will be appearing in this season of the show which we're very excited about which obviously we can't talk about at all," Schwartz said.
Could he mean Victor Mancha or Xavin? Schwartz wasn't telling, but he did promise we'd see a lot more of the Runaways using their powers. "This is the danger room where kids can work out their powers," Schwartz said. "We're really embracing that element of the show."
Schwartz also confirmed that no one on Runaways will dissolve into ash, which is not surprising since most of the Marvel shows stay out of the movies' timeline.
So far, Alex Wilder (Rhenzy Feliz) has fulfilled his comic book destiny to be the leader of the Runaways. That may also mean he'll end up falling out with them and betraying his friends, like he does in the comics. For now, Feliz says he's still on the leadership path.
"I feel like towards most of season one, he made a lot of the decisions for the group, and then at the beginning of season two, also that starts to happen," Feliz said. "I don't know how much I can give away but things start to change in the group. Opinions start to change in the group and so who they thought may have led are all of a sudden not so capable. Maybe he doesn't want that sort of responsibility when he feels under appreciated in some moments. So things start to change in the group, dynamics start to change in the group so all of a sudden the leader isn't so much that. There's a sort of internal struggle with what's going on, with whether that's what he wants or that's what the group wants so for a little bit of the season you get to see that kind of dynamic, but I think that's all I can say on what happens."
Feliz said he stopped reading the comic books after Alex died, and his bosses won't tell him if they plan to extend his character's life in the show. "I feel like season one took so much longer," Feliz said. "In the comics, by the end of the second or third issue, they ran away. At the end of season one they run away so I feel like we're still very at the beginning in terms of the comic book run, so I don't see it diverting so much. I still see the possibility of us carrying out what the comic first drew up."
The first season of Marvel's Runaways begins airing on Freeform this summer so more people without Hulu will get a chance to see it. In the comics, Runaways had crossovers with Cloak & Dagger, who now star in a show for Freeform. Schwartz said he'd welcome a crossover, but has no say in the matter.
"We're open except that's not our decision to make," Schwartz said. "That's up to the powers that be. We're on different networks and we have to figure that out. We're open. I don't know what they have in store for their season two. I know they've already kind of mapped it all out but anything's possible in the future. They cross over in the comics."
Marvel's Runaways returns on Hulu this winter.