Now Stream This: 'Constantine', 'In The Mouth Of Madness', 'The Game', 'Point Break', 'Dead Again' And More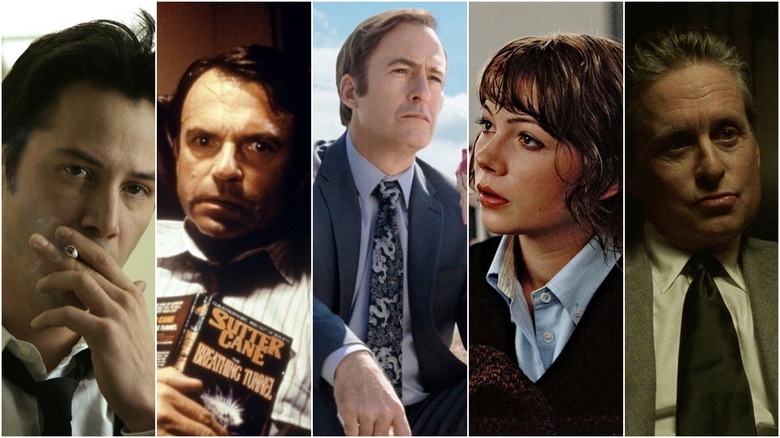 (Welcome to Now Stream This, a column dedicated to the best movies streaming on Netflix, Amazon, Hulu, and every other streaming service out there.) 
The world of streaming services can be overwhelming, and more often than not, you might find yourself unsure what to watch, and where to watch it. That's where Now Stream This comes in! I'm here to help you navigate the murky waters of all thing streaming, and this week, I have some doozies for you. There's not one, but two Keanu Reeves films; John Carpenter's last great movie; an underrated David Fincher thriller; a slasher remake; and much more.
These are the best movies streaming right now. Let's get streaming.
The Best Movies Streaming Right Now
Now Streaming on Netflix
Release Date: 2005Genre: Action-HorrorDirector: Francis LawrenceCast: Keanu Reeves, Rachel Weisz, Shia LaBeouf, Tilda Swinton, Pruitt Taylor Vince, Djimon Hounsou, Peter Stormare
I've never read the Hellblazer comic, which might explain why I've always had a fondness for Constantine. By all accounts, this 2005 totally botches the source material it's adapting. If that's true, fans have my sympathy. Yet at the same time, I don't really care, because this movie is a blast. Keanu Reeves is a chain-smoking exorcist riddled with cancer, and damned to hell. While trying to buy his way into heaven he gets mixed up in a nonsensical mystery involving demons, angels, and a the spear that pierced the ribs of Jesus Christ. Rachel Weisz is also there, playing both a cop and her deceased twin. Director Francis Lawrence overloads Constantine with style – there's such great use of shadows and out-of-focus imagery here – and gosh darn it, it's just fun to watch Reeves smoke a bunch of cigarettes and act like an a**hole. The film really belongs to two supporting players, though. Tilda Swinton is dynamite as the androgynous angel Gabriel, who wears dope suits and has a sick haircut. And Peter Stormare is one of the best on-screen representations of Satan ever, decked out in a linen white suit with tar dripping from his feet. Again: if you're a huge fan of the Hellblazer comic and hate what this flick did to the character, I understand. But I think if you can divorce yourself from said source material you'll find a genuinely enjoyable horror-mystery.
For fans of: Angel Heart, Chinatown, The Matrix, chain-smoking Keanu.
2. In The Mouth of Madness
Now Streaming on Shudder
Release Date: 1994Genre: HorrorDirector: John CarpenterCast: Sam Neill, Julie Carmen, Jürgen Prochnow, David Warner and Charlton HestonJohn Carpenter's last great movie is finally streaming on Shudder, and I couldn't be happier. While In the Mouth of Madness isn't an actual H.P. Lovecraft adaptation, it's probably the film that best understands how to approach Lovecraft's work. The story involves a Lovecraft-like author who goes missing, and the insurance investigator (Sam Neill) hired to find him. Along the way, Neill's character discovers that all the terrible, slimy things from the missing author's books are slowly breaking through into reality, and the end of the world is nigh. I'm not quite sure what happened to Carpenter after this, but his post-Madness output was mostly terrible, and he hung up his director hat to play video games all day and make cool music. That's fine – he's earned it. And at least he left us with this creepy, wonderful movie.For fans of: H.P. Lovecraft, Hellraiser, Prince of Darkness, Sam Neill laughing his ass off.
Now Streaming on Netflix
Release Date: 1997Genre: Mystery mind-fuckDirector: David FincherCast: Michael Douglas, Sean Penn, Deborah Kara Unger
When people talk about the work of David Fincher – which they do, constantly – it always seems like The Game is left out of the conversation. Which is a damn shame, because this is one of my favorite Fincher flicks. Fincher followed-up Seven with this dreary, gloomy thriller about a bored, depressed millionaire (Michel Douglas) who gets drawn into a very elaborate real-life game. Or is it a game? Maybe it's all real. Or maybe he's going insane. Fincher stages the film as a film within a film. Douglas is a pawn, trapped in someone else's movie. And it just happens to be a David Fincher movie, loaded with danger and gloom. Fincher would only go on to make better films from here, but The Game is a slow-burning nightmare that sucks you into its unyielding darkness.
For fans of: Seven, Game Night, Vanilla Sky, gloomy-yet-gorgeous cinematography.
Now Streaming on FilmStruck
Release Date: 1962Genre: Sci-fi shortDirector: Chris MarkerCast: Hélène Chatelain, Davos Hanich, Jacques LedouxLa Jetee, AKA the film that inspired Twelve Monkeys, is a haunting, experimental short (it's only 28 minutes long, so you have time to watch it on your lunch break) about time travel in a post-apocalyptic world. The plot of the film is similar to Terry Gilliam's adaptation, but with a distinct difference: it's told almost entirely via still images. That may sound weird, because it is. But it's also highly engrossing. We're drawn in by the grainy, cryptic black and white images director Chris Marker presents us with, as we are with the film's eerie soundtrack, full of whispers, narration and other noises. If you've seen Twelve Monkeys, you know exactly how this story ends. But it's not about the ending. It's about the journey.For fans of: Twelve Monkeys, Looper, Primer, existential dread.
Now Streaming on Hulu
Release Date: 1991Genre: Surfing Crime Action MovieDirector: Kathryn BigelowCast: Patrick Swayze, Keanu Reeves, Lori Petty and Gary Busey
That's right, there are two Keanu Reeves movies on this week's list. You're welcome. Point Break is my personal-favorite Kathryn Bigelow movie, and one of my favorite movies of all time. On the surface, this story seems utterly ridiculous: Keanu Reeves is a cop who goes undercover as a surfer in order to catch a gang of bank robbers, who are also surfers. But Bigelow is so incredible at what she does that she ends up making Point Break a thing of beauty. Loaded with high-octane action scenes – there's a foot chase that's better than 95% of the action in modern movies – and gorgeous shots of waves crashing over beautiful people, Point Break is a real gem. I've seen people say that Reeves' performance in this movie is bad, but I disagree. Sure, he's very bro-ed out, but that's his character. He's an ex-football player turned cop turned surfer. It makes sense that he'd be kind of a dope. The real star here, though, is Patrick Swayze, playing the enlightened leader of the bank robbers. Swayze is very zen, very chill, and very cool – until he isn't. There's also an undercurrent of sexual tension between Reeves and Swayze that I feel like a lot of people miss. Like Paul Thomas Anderson's The Master, this is ultimately a story about two very different men who are secretly in love with each other, but can't actually act on their feelings, and instead result to extremes. There was a remake of Point Break in 2015, and it is the worst thing ever. Avoid it. Watch the original.
For fans of: Speed, Blue Steel, The Master, Gary Busey ordering two meatball sandwiches.
Now Streaming on Amazon Prime Video
Release Date: 1991Genre: MysteryDirector: Kenneth BranaghCast: Kenneth Branagh, Emma Thompson, Andy Garcia, Derek Jacobi, Robin WilliamsKenneth Branagh directs this gloriously over-the-top melodramatic thriller about murder, romance and reincarnation. Branagh is a private detective who is trying to help a woman with amnesia (Emma Thompson) find out who she really is. Along the way, the two discover they might be the reincarnations of a famous composer and his wife, whom he murdered. It's all delightfully silly and yet played entirely straight. Branagh is a filmmaker who always goes for broke – quick zooms, exaggerated gestures, booming music cues. Dead Again build and builds, and reveals one fascinating twist after another. Do the twists make sense? No, they do not. But they work, because Branagh and company never wink at the audience. Look for a cameo from Robin Williams in a mostly dramatic role.For fans of: Birth, Mary Shelley's Frankenstein, Audrey Rose, dying again.
Now Streaming on Amazon Prime Video
Release Date: 1998Genre: Nicolas Cage YellingDirector: Brian De PalmaCast: Nicolas Cage, Gary Sinise, John Heard, Carla Gugino, Stan Shaw, Kevin DunnSnake Eyes is "bad De Palma", but even bad De Palma is better than most other films. As is his wont, Brian De Palma directs the hell out of this movie, smothering it in long-shots, split screens and point-of-view shots. The film is centered around a murder during a high-profile boxing match in Atlantic City. Nicolas Cage is an extremely over-the-top cop, decked out in a hideous brown suit, who gets caught up in the mystery. Cage's cop is corrupt, but the murder mystery ends up spurring him to do the right thing, against his better nature. De Palma can't keep the momentum going, and Snake Eyes kind of crumbles in its last half-hour. But the film is still strangely watchable, primarily because De Palma refuses to phone anything in.For fans of: Dressed to Kill, Blow Out, Body Double, Nicolas Cage never, ever closing his mouth.
8. Better Call Saul Seasons 1 through 3
Now Streaming on Netflix
Release Date: 2015-presentGenre: TVDirector: VariousCast: Bob Odenkirk, Jonathan Banks, Rhea Seehorn, Patrick Fabian, Michael Mando, Michael McKean, Giancarlo EspositoBetter Call Saul returns for its 4th season next week. If you've avoided watching the show for some strange reason, and want to get caught up for season 4, here's your chance! Can you burn through three full seasons of TV between now and next Monday? You can...if you believe. When Better Call Saul was announced, I was skeptical. It seemed like a cheap way to cash-in on the Breaking Bad popularity after Breaking Bad ended. But here's the thing: Better Call Saul has actually evolved to become better than Breaking Bad. Don't get me wrong: Breaking Bad is great, and a game-changer. But over its three seasons, Better Call Saul has turned into its own unique, brilliant, often anxiety-inducing series. When the show started, I think many assumed it would be a comedy, since Breaking Bad's sleazy lawyer Saul Goodman was so inherently comedic. Better Call Saul has some comedic moments, but it's really more of a drama. It's the story of Jimmy McGill (Bob Odenkirk), an ambulance chasing lawyer who wants to do great things, but is often sidetracked by his own terrible judgement. What we're watching is the the de-evolution of Jimmy McGill into Saul Goodman. It's heartbreaking, because we can see Jimmy wants to do the right thing, but most of the time, he fails. Plus we know he's fighting a battle he'll eventually lose. Odenkirk is fantastic, balancing humor and sadness equally. And he's backed-up by a phenomenal cast. Jonathan Banks is predictably incredible reprising his Breaking Bad character Mike, Michael McKean is somehow both detestable and likable as Jimmy's disapproving brother Chuck, and Rhea Seehorn is a revelation as Jimmy's girlfriend, very determined lawyer Kim Wexler. I swear to you: this is one of the best shows on TV right now. In fact, it might be the best show. So catch up, and enjoy season 4 when it starts next week.For fans of: Breaking Bad, Halt and Catch Fire, the overwhelming, crushing feeling that everything will eventually go wrong.
Now Streaming Shudder
Release Date: 2009Genre: SlasherDirector: Stewart HendlerCast:  Briana Evigan, Leah Pipes, Rumer Willis, and Carrie Fisher
As far as slasher remakes go, Sorority Row – which is based on the 1983 film The House on Sorority Row – is surprisingly good. It's an unapologetically nasty film, and isn't afraid to water-down the horror like some other slasher remakes. Let me be clear: this is not high art. You're not going to get some sort of masterpiece here. What you are going to get is a slasher throwback that just happens to have a supporting role for Carrie Fisher. In the film, a group of college students cover up the accidental death of one of their sorority sisters. In true horror movie fashion, this cover-up comes back to haunt them, as someone begins picking them off one by one. It works!
For fans of: Friday the 13th, I Know What You Did Last Summer, Carrie Fisher shooting a shotgun.
Now Streaming on Hulu
Release Date: 2005Genre: Rom-ComDirector: Michael ShowalterCast: Michael Showalter, Elizabeth Banks, Michelle Williams, Justin Theroux
In many rom-coms, there's usually a well-meaning but ultimately dull dweeb that the lead female character is dating. She will ultimately leave this dork and fall into the arms of the film's leading man. But what happens to that unlucky nerd she left? The Baxter explores that question in charming fashion. Before he helmed The Big Sick, Michel Showalter directed this low-budget romantic comedy that virtually no one saw. Showalter plays the unlucky guy, who is dating Elizabeth Banks, who is clearly destined to fall into the arms of the much more handsome, much more confident Justin Theroux. Along the way, however, Showalter's character meets a very nervous secretary (Michelle Williams), and he ends up falling head over heels. The Baxter is loaded with sweet-natured charm and some genuinely funny bits. Best of all, it gives Michelle Williams a chance to be funny – something she doesn't get to do that often.
For fans of: The Big Sick, Wet Hot American Summer, They Came Together, Peter Dinklage cameos.