The More Tom Cruise Runs, The Better His Movies Do, According To Science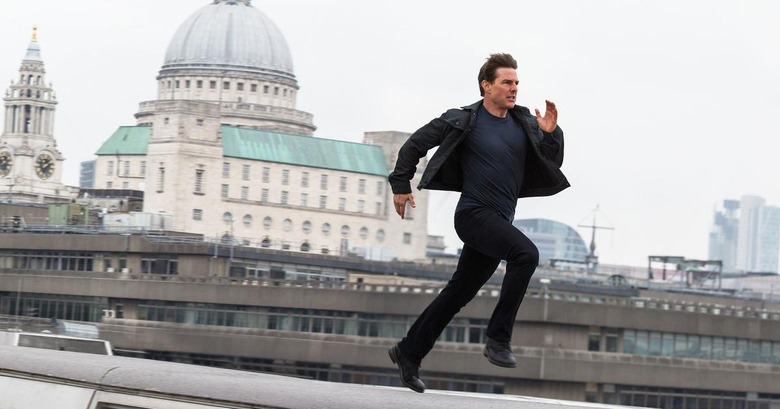 Did you know that if Tom Cruise stops running, he dies? Well not exactly, but if he runs less, his movies do worse at the box office. Really. It's science.
A study from the folks at Rotten Tomatoes have figured out that the amount that Cruise runs in his movies correlate with how good the movies are — and how well they do at the box office.
It began as an internet meme pointing out, Tom Cruise sure does run in movies a lot, doesn't he? But then the actor went on to put it in his Twitter bio ("running in movies since 1981," it proclaims) and videos compiling all of the scenes of Tom Cruise running hit the web.
Now, following the release of Cruise's latest and most running-est movie yet, Mission Impossible: Fallout, Rotten Tomatoes has released a totally legitimate study proving that the more Cruise runs, the better his movies do. And by their painstaking methodology, you'd have to believe it was true.
In the report, which you can find here, Rotten Tomatoes compiled "every instance of Cruise's running on screen, in seconds, and then calculated the distances ran by assuming he is clocking a six-minute mile (14.6 feet per second)." And what did they find? Well, movies featuring Cruise running more than 1,000 feet tended to have a higher Tomatometer average (71%) than the movies in which he runs less than that. And these statistics translate to box office revenue too — on average, these same movies had an average inflated international gross of $538 million.
This is compared to movies in which he doesn't run at all (which only consist of the four films Magnolia, Lions for Lambs, Tropic Thunder, and Valkyrie) at an average of 63.5%, movies in which he runs 1 to 500 feet at 61.05%, and movies in which he runs 501 and 1,000 feet, which average out to 61.625%.
Hilariously, the 56-year-old star seems to be running more the older he gets — though Fallout hasn't yet been factored into these results. Here are the 10 movies in which Cruise runs the most, according to Rotten Tomatoes:
"Mission: Impossible III" — 3,212 feet
"Mission: Impossible — Ghost Protocol" — 3,066 feet
"War of the Worlds" — 1,752 feet
"Minority Report" — 1,562 feet
"Edge of Tomorrow" — 1,065 feet
"Jack Reacher: Never Go Back" — 1,051 feet
"Mission Impossible – Rogue Nation" — 1,007 feet
While there are a few outliers, this study seems to be pretty on the nose about what the audiences want: to see Tom Cruise run. His top three grossing movies with the most running and box office success include Mission: Impossible III (3,212 feet, $134 million), Mission: Impossible – Ghost Protocol (3,066 feet, $209 million) and War of the Worlds (1,752 feet, $234 million).
Now, without further ado, let's re-watch Tom Cruise run in all his movies.