'Incredibles 2' Box Office Soars To $1 Billion Worldwide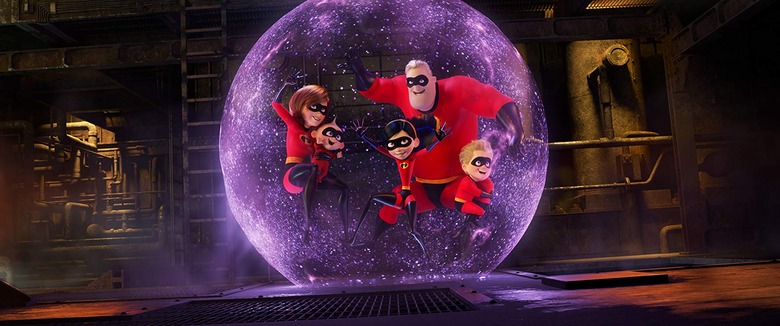 Incredibles 2 has hit a box office milestone, crossing the $1 billion threshold worldwide after only six weeks in theaters. Talk about super.Incredibles 2 is proving to have long, maybe elastic, legs at the box office. The box office returns this weekend have just pushed the Pixar film past the $1 billion mark, making it the third Disney film this year to enter the exclusive 2018 triple-comma club, according to Entertainment Weekly. And it did it in just six weeks.
The other Disney films to reach $1 billion at the global box office are Black Panther ($1.3 billion) and Avengers: Infinity War ($2 billion). But Incredibles 2 has proven to have remarkable staying power, boasting one of the smallest second-week drops ever and showing no signs of slowing down.
Incredibles 2 currently holds the number one positions for both Pixar's biggest domestic opening weekend ($182 million) and their biggest domestic grosser so far at $572 million. But its achievements aren't limited to the frequently high-grossing, acclaimed Pixar fare. Incredibles 2 has also shot to the top of the animated film releases in the U.S., making it the best domestic performer in animation by a wide margin.
But in total global grosses, Incredibles 2 still sits behind Pixar films like Toy Story 3's $1.067 billion and Finding Dory's $1.029 billion. But it will likely soon pass them, in addition to Disney's own Zootopia ($1.024 billion) and Universal's Despicable Me 3, with $1.035 billion. But the two top contenders are another question, which include the daunting Minions ($1.159 billion for 17th at the worldwide box office, all-time) and the Disney queen, Frozen, with $1.277 billion and 12th all-time.
But still, these are some super achievements for a sequel that came out 14 years after the popular The Incredibles. And we can expect even more super things from Incredibles 2 as the summer winds down. Hope your summer movie wager won't take too much of a superpowered punch.
Directed by Brad Bird, Incredibles 2 is currently playing in theaters.
Everyone's favorite family of superheroes is back in "Incredibles 2" – but this time Helen (voice of Holly Hunter) is in the spotlight, leaving Bob (voice of Craig T. Nelson) at home with Violet (voice of Sarah Vowell) and Dash (voice of Huck Milner) to navigate the day-to-day heroics of "normal" life. It's a tough transistion for everyone, made tougher by the fact that the family is still unaware of baby Jack-Jack's emerging superpowers. When a new villain hatches a brilliant and dangerous plot, the family and Frozone (voice of Samuel L. Jackson) must find a way to work together again—which is easier said than done, even when they're all Incredible.