Steven Moffat Continues His Obsession With Doomed Time Travel Romance, Will Adapt 'The Time Traveler's Wife' For HBO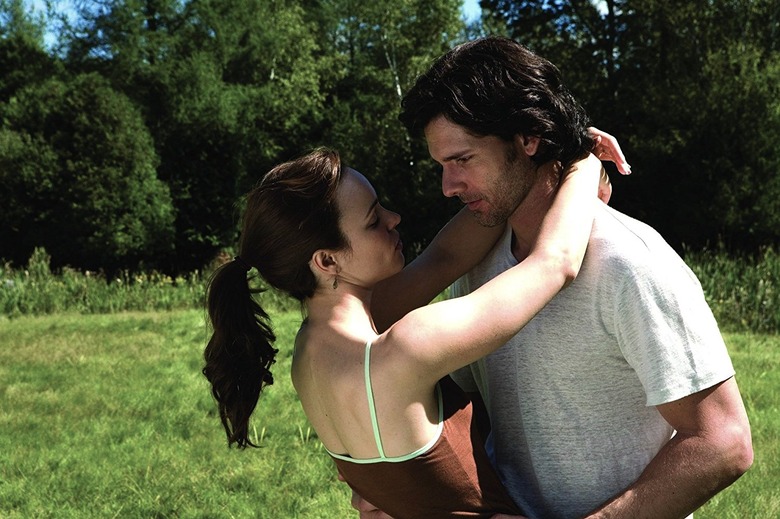 Steven Moffat can't get away from making shows about time travelers, just like Rachel McAdams can't get away from playing their wives. But McAdams likely won't be starring in HBO's series adaptation of The Time Traveler's Wife, which Moffat is on board to develop. It's familiar terrain for the former showrunner and writer of the U.K.'s longest-running time traveling sci-fi show, Doctor Who.
HBO has ordered a series adaptation of Audrey Niffenegger's novel The Time Traveler's Wife from Moffat, according to Variety.
The series tells the story of Clare and Henry's decades-spanning romance that is frequently thrown into disarray when Henry's rare genetic disorder forces him to involuntarily travel through time at various points in his life. The heart-wrenching story was first adapted into a 2009 film starring Rachel McAdams and Eric Bana, but now will receive the small-screen treatment from a writer with a long experience in tragic time-travel romances.
Moffat, who also co-created the acclaimed BBC series Sherlock starring Benedict Cumberbatch, was the showrunner of Doctor Who for seven years, only stepping down from his position last year. But it seems Moffat can't get enough of time travel. And in particular, tragic romances that revolve around time travel. In Doctor Who, Moffat introduced at least three female characters who fall in love with the titular Time Lord, only to spend their lives waiting for him to return.
One Doctor Who episode written by Moffat holds more than a few similarities to Niffenegger's novel — something that Moffat admits he was inspired by. "I read Audrey Niffenegger's 'The Time Traveler's Wife' many years ago, and I fell in love with it. In fact, I wrote a 'Doctor Who' episode called 'The Girl In The Fireplace' as a direct response to it," Moffat said in a statement accompanying HBO's announcement.
"The Girl in the Fireplace" is a 2006 episode written by Moffat before he became showrunner of the BBC series. The episode revolves around Madame de Pompadour (Sophia Myles) whose fireplace turns into a time portal through which the Doctor appears at random intervals in her life. They fall in love, but thanks to the time travel element, the romance naturally ends in tragedy. There's also weird masked androids, but those aren't important.
Moffat added that Niffenegger had appreciated his episode, and even included a reference of her own to the series in her next novel:
When, in her next novel, Audrey had a character watching that very episode, I realised she was probably on to me. All these years later, the chance to adapt the novel itself, is a dream come true. The brave new world of long form television is now ready for this kind of depth and complexity. It's a story of happy ever after — but not necessarily in that order."
As you can see, Moffat holds a strange obsession with romances ripped apart by time travel — he keeps going back to the trope in Doctor Who with River Song in season 4 onwards, and Amy Pond in season 5. Now it seems he's finally achieved his dream of doing an actual adaptation of The Time Traveler's Wife, for HBO no less. Hopefully his adaptation will be less layered with the casual sexism he brought to Doctor Who.
No release date has yet been set for HBO's The Time Traveler's Wife.