Dave Bautista To Lead Action Comedy 'My Spy' For 'Get Smart' Director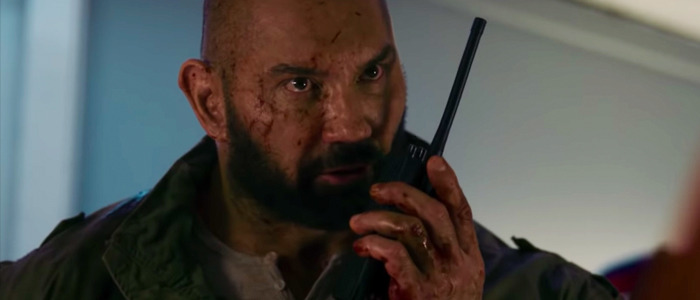 After helming the 2008 film adaptation of the spy comedy series Get Smart, director Peter Segal is heading back to the spy movie genre with a new action comedy called My Spy. Wrestler-turned-actor Dave Bautista (Guardians of the Galaxy, Spectre) is set to play the lead role opposite a 9-year-old girl, and you know what that means: it looks like Bautista is barreling straight into territory that Arnold Schwarzenegger visited in the 1990s and Dwayne Johnson visited in the mid-2000s.
The Hollywood Reporter says that Bautista will star in My Spy, which "will tell the story of a hardened CIA operative (Bautista) who finds himself at the mercy of a precocious 9-year-old girl, having been sent undercover to surveil her family." Here's hoping we don't see a scene in which he's participating in an imaginary tea party with the little girl's stuffed animals.
It's unclear if this movie is the same My Spy as one that was floating around a few years ago at Universal; that one was described as a teen spy comedy at the time, but it's possible it could have been reworked to age down the spy's co-star. We wrote about this version of the movie back in April, when it was first announced that STX Entertainment had hired Bautista to star in this film. Jon and Erich Hoeber, the screenwriting team behind the 2010 action-comedy Red, wrote the script.
Since his breakout role of Drax the Destroyer in 2014's Guardians of the Galaxy, Bautista has largely stayed in the action genre. But as his Drax performance continues to prove, he's also extremely adept at comedy and has killer timing, so a mix of those two genres should be a cakewalk for him. As I mentioned, this kind of family-friendly territory has been well-trod by muscle-bound actors in the past – even Hulk Hogan starred in a couple in the 1990s with Suburban Commando and Mr. Nanny. Those bills aren't going to pay themselves, I suppose.
As for Segal, he's directed movies like Tommy Boy, Nutty Professor II: The Klumps, 50 First Dates, The Longest Yard remake, Grudge Match, and the upcoming Jennifer Lopez comedy Second Act, so he's all over the place in terms of quality, but sadly tends to hover closer to the lower end of the spectrum. Here's hoping this at least is enjoyable for its target audience. Every new generation needs a few movies about buff guys looking silly while protecting children.