'Timeless' Is Getting A Proper Two-Part Series Finale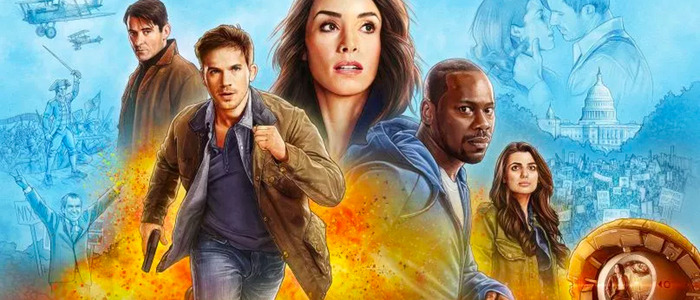 Rejoice, Timeless fans. After the show was cancelled (for a second time), many worried there would be no closure for the time-traveling TV series. But NBC has decided to throw Timeless one last bone, giving the go-ahead to a two-part series finale. The Timeless series finale will arrive in time for the holiday season.
Last month, NBC pulled the plug on Timeless. Again. The series had originally been cancelled once before, but fan outcry was so enthusiastic that NBC decided to give the series another shot. But alas, time eventually ran out for Timeless. NBC cancelled it once again, and this time it seemed like fan outcry wouldn't be enough to save the day. This was no doubt frustrating to the fans, not just because the show they loved was leaving the air, but also because Timeless ended its most recent season on a cliffhanger.
At the time of the show's cancellation, rumor had it that NBC and producer Sony Pictures TV were mulling over a two-hour Timeless movie to wrap things up. Co-creator Eric Kripke took to Twitter to confirm the 2-hour movie possibility. He also added that Sony has been working to find a new home for the show, but interest just wasn't there. Now, there's good news. Deadline (and others) are reporting that a two-part Timeless series finale will indeed happen, and arrive just in time for the holiday season.
"While we wish we could've made another dozen seasons of Timeless, this is the next best thing," said Timeless creators and executive producers Shawn Ryan and Eric Kripke. "We're thrilled to take the Lifeboat out for one last spin and bring closure to our story. The studio, network, cast and crew are all doing this for one reason only: the fans. Because they deserve it. Because the fans made this happen and we thank them for their passion, support and helicopters. So? You guys want to get Rufus back or what?"
That last comment is a direct reference to the previous season finale. Spoilers follow. In that episode, time travelers Wyatt (Matt Lanter) and Lucy (Abigail Spencer) return from their latest mission without the third member of their team, Rufus (Malcolm Barrett), due to Rufus being killed. But right before the episode ended, a future version of Wyatt and Lucy showed up, asking, "You guys want to get Rufus back or what?"
"We're excited to tell one final chapter to this incredible story," said Lisa Katz, Co-President of Scripted Programming for NBC Entertainment. "A huge thank you to all – our cast, crew, producers and partners at Sony – who have worked so very hard, and to the fans who kept us on our toes and made sure we did our very best week after week."