'Outlander' Season 4 Trailer: Claire And Jamie Brave The New World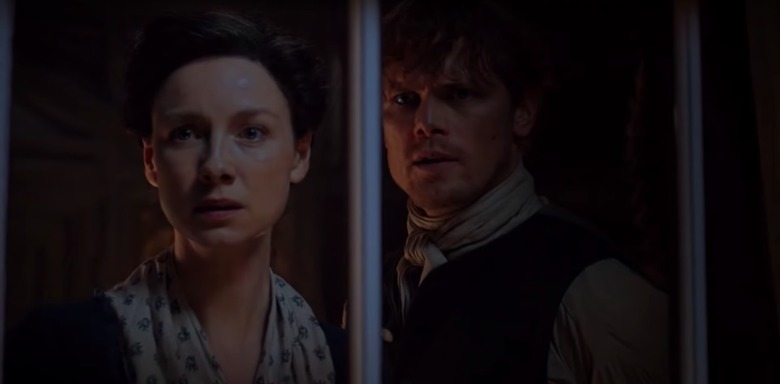 Claire and Jamie have braved uprisings, battles, thousands of miles, and hundreds of years with each other, but now the two of them face their biggest hurdle yet: the New World. In Outlander season 4, our two star-crossed lovers are reunited, but find themselves stranded in America after the pair were shipwrecked in Georgia last season. Now they venture to North Carolina, where Jamie's aunt welcomes them to Riverrun. No, not the one in Westeros — though let's hope that Outlander doesn't start to become as fraught as Game of Thrones.
Outlander Season 4 Trailer
Caitriona Balfe and Sam Heughan return as Claire and Jamie, the couple whose love transcends time — literally. After the pair were separated in their separate times — Claire in 1940s England, Jamie in 18th century Scotland — post-season 2, we saw them reunited in season 3, only for their romance to be interrupted by trials and tribulations once again. Geez, these guys can just never have it easy, can they?
But at least season 4 sees them happy and together, ready to make a new life for themselves at Jamie's aunt's estate in Riverrun, North Carolina. But trouble will always find the couple, as they deal with rough terrain and rougher residents of the American colonies. Worse yet, the two make the startling discovery of another time traveler — or at least, his skeleton.
Though it seems like Jamie will remain eternally young despite his multiple brushes with death, Claire begins to show her age in the new Outlander season 4 trailer, which makes sense considering the two were separated for 20 years. How old are Jamie and Claire now, anyway? Does it even matter since they're time travelers and Claire seems to have an infinite supply of brown hair dye? And how long could this sexytime series last once Jaime and Claire reach their 50s? 60s? We'll know as much once we get to Season 6, through which Starz has renewed the popular series.
Here is the official synopsis for Outlander season 4:
The fourth season of "Outlander" will include 13 episodes based upon Drums of Autumn, the fourth of the eight books in Diana Gabaldon's international best-selling Outlander series. The upcoming season continues the romantic adventures of Claire (Caitriona Balfe) and Jamie Fraser (Heughan) in America and will premiere this November 2018 on Starz. Additionally, the series has been renewed for two more seasons, taking it through season six. The "Outlander" television series, executive produced by Ronald D. Moore, Maril Davis, Toni Graphia, Matthew B. Roberts and Andy Harries, is inspired by Diana Gabaldon's eight-book Outlander series that has sold an estimated 30 million copies worldwide with all the books having graced the New York Times best-sellers list.
Outlander season 4 returns to Starz in November 2018.