New Blu-Ray Releases: 'Ready Player One', 'In The Mouth Of Madness', 'Rampage', 'Breaking In', 'Pyewacket', 'Dark Crimes'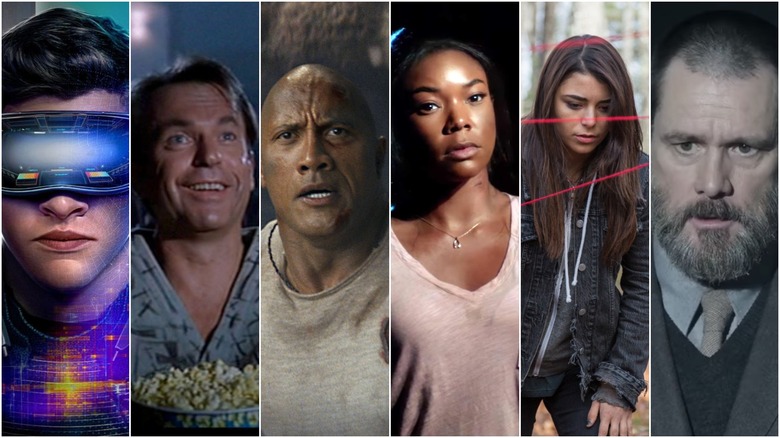 (Welcome to Not Dead Yet, a feature dedicated to new Blu-ray releases and what special features you should be excited about. Because yes, some of us still like to own physical copies of our movies.)
This week's physical media round-up brings you Steven Spielberg's latest, a John Carpenter horror classic, Dwayne Johnson battling CGI monsters, Gabrielle Union kicking ass, an indie horror film worth your attention, and Jim Carrey's return to acting.
Here are the new Blu-ray releases and their special features you should check out this week and beyond.
Ready Player One
In my theatrical review, I called Ready Player One the worst film of Steven Spielberg's career. Based on the comments section, that opinion didn't go over so well! So did I get it wrong? Is Ready Player One a secret masterpiece that just went over my head? I don't think so. But maybe I was a little too hard on the film. Maybe.
To be clear: Spielberg is making the best of a bad situation. I know people hold Ernest Cline's pop culture manifesto Ready Player One in the highest regard, but to me, it reads like a series of winking references run through a generic dystopian sci-fi story generator. It's an episode of VH1's I Love the 80s blended with Demolition Man. Spielberg takes that material and crafts it into...something. There are technical wonders in Ready Player One, but they're so persistent and constant that they become overwhelming. It gets to the point where all the world building up on the screen becomes a blur, and we're left wondering just what the hell is going on here.
Yet buried beneath all of this is the story of a creator coming to terms with his creations. This, I think, is what Spielberg is most interested in. Not the story of Wade Watts (Tye Sheridan), boring virtual reality aficionado. No, what Spielberg would really like to focus on is the story of James Halliday (Mark Rylance), the man who created the virtual world known as the OASIS. By the end of the film, the ghost of Halliday appears and seems to be overwhelmed at the idea of his fictional worlds being hoisted into holy status by obsessive fans. Perhaps this is Spielberg reckoning with his career. Looking back at the pop culture landscape he created and wondering, "Was it all worth it?"
Or maybe I'm reading too much into things, and this is just a big dumb movie about '80s references.
Special Features to Note:
The Ready Player One Blu-ray comes loaded with over 90 minutes (good lord!) of special features.
The '80's: You're The Inspiration: Hey, remember the '80s? So does this featurette, which is all about how '80s pop culture inspired Ernest Cline so much. In this video, Cline says the '80s were highly influential on him because that's when he started noticing pop culture, and as a result, he would later pen Ready Player One. Of course, Cline was inspired by the work of Spielberg and his company Amblin, only to later have Spielberg adapt the book into a film. Full circle, and all that. Game Changer: Cracking the Code: This is the best feature, because it opens with a shot of Spielberg walking his dog. But seriously, folks: this featurette is 57 minutes long, so...buckle up. This is a full-blown Making Of doc, from conception of the book all the way up through the making of movie. Here, Spielberg says it's one of the hardest movies he ever made, because he couldn't just go off with a crew a shoot, he had to create an entire world.Effects for a Brave New World: A chronicle of the many, many special effects that occupy virtually every frame of the film. Spielberg says he didn't want the OASIS to look like a "cartoon", and I'm sorry to break it to one of my all-time favorite filmmakers, but he failed. The OASIS does look like a cartoon. The most fascinating element here is the revelation that he effects artists created the entire world of the film in VR, and then gave Spielberg a VR headset. This enabled the director to walk on a virtual "set" and design his shots for the film. Ernie & Tye's Excellent Adventure has Cline and Sheridan in Cline's home in Austin, right before the film premiere at SXSW. Cline talks about how when the book was published in 2010 his whole life changed, with studios trying to buy the book rights; talks about the origins of the film. The segment ends with Sheridan quizzing Cline on various pop culture screen shots. It's amusing enough.
There are also featurettes on sound design and the film's soundtrack.
Special Features Include:
Game Changer: Cracking the Code
Effects for a Brave New World
Level Up: Sound for the Future
High Score: Endgame
Ernie & Tye's Excellent Adventure
The '80's: You're The Inspiration
In The Mouth of Madness
As of this writing, In the Mouth of Madness is the last great movie John Carpenter made (sorry, The Ward fans). Carpenter channeled the work of H.P. Lovecraft for this creepy, funny, wholly engrossing horror film about the end of the world. Sam Neill is an insurance investigator hired to find a missing horror author. But here's the twist: the horror author's books are slowly becoming real, and anyone who reads his latest book – In the Mouth of Madness – goes insane.
Is this Carpenter's best movie? No. But it is one of his most entertaining; his most re-watchable. There's something genuinely unnerving about the flick, be it its impressive creature effects, or the way the film goes through fits and stages, presenting a world slowly going mad. I don't know if Carpenter will ever return to filmmaking again. I have my doubts. If he doesn't, I'm content with pretending this is his real final movie, while ignoring anything he made after this.
Special Features to Note:
The good folks at Scream! Factory finally give In The Mouth of Madness the Blu-ray it deserves. There's a gorgeous new 4K scan of the film, making it look the best it's looked in years. There's also a new commentary with Carpenter and producer Sandy King Carpenter, and thank heavens for that. Carpenter originally recorded a commentary with cinematographer Gary B. Kibbe (that commentary is included here as well), and it's one of the most boring commentaries I've ever heard in my life. The new one is a lot more fun. It's not exactly what I'd call insightful, but listening to the Carpenters reflect on the film is very enjoyable. Every time something scary happens in the movie, John Carpenter will say, "Oh dear!" He does this approximately 500 times. It never gets old.
Also included: "Horror's Hallowed Grounds", featuring host Sean Clark visiting the Toronto locations the film was shot at. In addition to this, there's a very brief interview with co-star Julie Carman. It's fine. The best featurettes are the two devoted to special effects. One, "Greg Nicotero's Things In The Basement", features make-up effects man Nicotero breaking down some of the film's special effects. "Home Movies From Hobb's End" also leans heavily on Nicotero's work, and provides us with a great look at the "wall of monsters" that chases Neill in the film. We only see this in brief flashes in the finished film, but it's fully on display in these featurettes.
Special Features Include:
NEW 4K Scan Of The Original Film Elements
NEW Audio Commentary With Director John Carpenter And Producer Sandy King Carpenter
NEW Horror's Hallowed Grounds – A Look At The Film's Locations Today
NEW The Whisperer Of The Dark – An Interview With Actress Julie Carman
NEW Greg Nicotero's Things In The Basement – A New Interview With Special Effects Artist Greg Nicotero Including Behind The Scenes Footage
NEW Home Movies From Hobb's End – Behind The Scenes Footage From Greg Nicotero
Audio Commentary With Director John Carpenter And Cinematographer Gary B. Kibbe
Vintage Featurette – The Making Of In The Mouth Of Madness
Theatrical Trailer
TV Spots
Rampage
When I first learned of Rampage, I assumed it would be a fun, goofy movie where Dwayne Johnson does battle with giant monsters. Then I watched the movie. Here's a question: why is Rampage so painfully serious? The tone of this flick is extremely sober and stone-faced, and boy does that not work.
A film based on an arcade game about big monsters fucking up buildings should, in theory, but fun. Instead, Rampage takes all of this stuff very, very seriously, and it hinders the film. Sure, eventually, monsters start wrecking stuff, and I suppose it's vaguely entertaining. But for the bulk of the film, Rampage is bogged down by a dour, dark tone that really does not work with the subject matter. Johnson is one of the most charismatic performers of our time. If only he'd pick better projects. Here, Johnson plays a primatologist who has to deal with genetically engineered beasties. A science experiment gone wrong turns Johnson's best buddy George, a silverback gorilla, into a giant killing machine. You can guess what happens next. Or you can just watch the much more enjoyable Jumanji: Welcome to the Jungle instead.
Special Features to Note:Among the Rampage special features, we have: Not Just a Game Anymore, which explores the history of the Rampage arcade game, and how it became a movie. Are you ready to learn the shocking truth about how this happened? Here goes: Warner Bros. owned the rights to the arcade game. There, that's it. Dwayne Johnson says he used to skip school to play the game, so this was a bit of a passion project for him. In the end, it's so weird to see footage of the game, which is very pixelated and simple, and really nothing like the movie itself. The filmmakers say they ran through several plot ideas, including one that was more true to the game. But the fact of the matter is there's not much story in the Rampage game – it's literally just a bunch of monsters smashing buildings. As a result, a new story had to be crafted. Trio of Destruction focuses on special effects powerhouse Weta creating the monsters for the movie. The filmmakers wanted to keep things "grounded in reality", or at least as grounded as a movie about giant monsters can be, and Weta worked with that. Again, I think this is a mistake. This is the type of movie the demands you stray from reality instead of trying to be grounded. But hey, what do I know. Bringing George to Life is a genuinely fascinating look at how movement coordinator Terry Notary taught actor Jason Liles how to become George the gorilla for motion capture. Notary is acclaimed for this sort of thing, and it's engrossing to watch him train Liles in the fine art of becoming a gorilla. 
Special Features Include:
Not A Game Anymore - From arcade sensation to movie monster epic, we explore how the Midway video game inspired the filmmakers to create the ultimate disaster film.
Gag Reel - Hilarious outtakes and mishaps captured during production.
Deleted Scenes - Deleted scenes that barely missed the final theatrical cut.
Rampage - Actors in Action: Strap in for a wild ride as Dwayne Johnson, Joe Manganiello and the cast prepare for the film's demanding stunts and explosive set pieces.
Trio of Destruction - Follow the innovative design team and the artists at Weta Digital as they bring to life the biggest and baddest monsters for the film's climactic battle royal.
Attack on Chicago - Director Brad Peyton reveals the challenges of filming on-location in Chicago and turning digital destruction into a cinematic reality.
Bringing George to Life - Discover the wonder of what it's like to be a gorilla, as movement coordinator Terry Notary teaches actor Jason Liles how to move, behave and become "George."
Breaking In
At first, Breaking In is a little like a reverse Panic Room – the story of a mother trying to break into a location to protect her offspring, rather than to keep thieves out. Then it pretty much just turns into a straight-up Panic Room remake. It's not great, but it's still a lot of fun. Best of all, it highlights the fact that Gabrielle Union kicks-ass and deserves her own (better) action franchise.
Union plays a mother who drives her two kids up to her late father's high-tech, very secluded home. As bad luck would have it, a bunch of criminals break into the house to retrieve some valuables, and lock Union out while her kids are locked inside. Now, Union has to take on all these fools, which she does, with gusto. The Unrated Director's Cut is violent and brutal, with Union dispatching one dumb-ass bad guy after another. I'm not going to lie: it's a lot of fun to watch her kick their asses. Breaking In eventually runs out of steam, and there's almost no character development to make us really care about what's going on. Still, someone needs to give Gabrielle Union her own franchise, immediately.
Special Features to Note: One Bad Mother is all about the female empowerment angle of the film. Here, Union says she likes that the film is one woman against a group of men, because that's what life is often like. Union goes on to say the villains make a mistake as underestimating her character as "just a woman", and then she promptly kicks their asses and kills them. A Lesson in Kicking Ass has Union talking about the action scenes, and how she tried to do as many stunts as possible. The filmmakers worked to make the fight scenes seem un-choreographed – Union's character isn't supposed to be some expert fighter, she's just a mother trying to protect her kids. So it makes sense that the fights were designed to look brutal and uncoordinated. 
Special Features Include:
Alternate Opening –The Gas Station with Commentary by Director James McTeigueand Scriptwriter Ryan Engle.
One Bad Mother –Gabrielle Union shows that there is no limit to what a threatened mother will do to keep her children safe, and why a woman on a mission should never be underestimated.
A Filmmaker's Eye –The crew explores what makes Director James McTeigue's vision and style uniquely valuable when it comes to creating the right mood for the film.
A Lesson in Kicking Ass –A behind-the-scenes look at how physically demanding the role of Shaun was for Gabrielle Union, and the steps production took to ensure the most convincing execution of the stunts throughout the film.
A Hero Evolved –An inspiring account of how leading roles are shifting to embrace the qualities that more diverse actors can bring to the table.
Deleted and Extended Scenes
Feature Commentaryby Director James McTeigue and Scriptwriter Ryan Engle
Pyewacket
IFC Midnight puts out a lot of low-budget horror films. And a lot of them are quite bad. But every now and then, they strike gold. Pyewacket falls into the latter category. This haunting, emotional indie chiller from Adam MacDonald is essentially Lady Bird reimagined as a horror film. Leah (Nicole Muñoz, who is something of a revelation here, giving an emotionally charged, wholly believable performance) is at odds with her mother (Laurie Holden) following the death of her father. Mother and daughter have to relocate to a new house, and after a particularly bad fight, Leah – who is heavily into the occult, along with her gothed-out friends at school – decides to perform a ritual to get rid of her mother once and for all. At first, it looks like the ritual has failed, and Leah immediately feels regretful and tries to patch things up with her mother. But as Pyewacket progresses, it becomes apparent that the ritual did not fail, and bad, demonic things are afoot. Writer-director MacDonald does a remarkable job blending familial drama with bone-chilling horror, resulting in one of the most promising indie horror films of the year.
Special Features to Note:
There aren't a whole lot of features here. In fact, there's only one – a brief making-of featurette that has interviews with the cast and crew. I wish I could say there's a wealth of info here, but there really isn't. Still, it's clear from this featurette that MacDonald took this film very seriously, and worked hard to make the best horror movie he could. He succeeded. Pyewacket is a creepy flick that lingers with you long after it ends, and even though it's short on special features, it is absolutely worth owning.
Special Features Include:
Making-of Featurette
Theatrical Trailer
Dark Crimes
Jim Carrey has kept a low profile in recent years, at least in terms of acting. He popped-up in a dialogue-free supporting role in The Bad Batch, but he hasn't lead a film since 2014's Dumb and Dumber To. Technically speaking, Carrey returned to acting in 2016 with Dark Crimes, but the film didn't see the light of day until this year. Watching it, you can understand why. This is a miserable, sleazy thriller that burns out long before it reaches its shocking twist.Dark Crimes is based on an incredible true story about a alleged murderer who confessed his crimes in a novel he wrote. The source material could make for a good movie. Alas, this isn't it. Marton Csokas plays the suspected killer, and he's suitably creepy. Charlotte Gainsbourg is his lover, who has a secret or two of her own. And Carrey plays the disgraced cop trying to piece this all together. While Dark Crimes doesn't really work, I will say this: Carrey is quite good in the film. He plays his detective character as a person entirely devoid of people skills, unable to connect with anyone around him, including his family. It's a believable performance. If only it were in a different film. 
Special Features to Note:The only special feature here is The Making of Dark Crimes, which is a bit strange. This is a very low-energy documentary, and looks cobbled together from servearl different sources. It starts off with sirens going off as the camera just stays on Carrey's face, before cutting to Marton Csokas talking about what drew him to the script. There are plenty of interviews with cast and crew, but sadly, Carrey isn't among them. Which is a shame, because I'd love to hear Carrey's thoughts on making the film – on what he drew him to it, and why he decided such a dark, serious film was worth devoting his time to. 
Special Features Include:
The Making of Dark Crimes