'The Good Cop' Trailer: Netflix's New Cop Comedy Stars Tony Danza and...Josh Groban?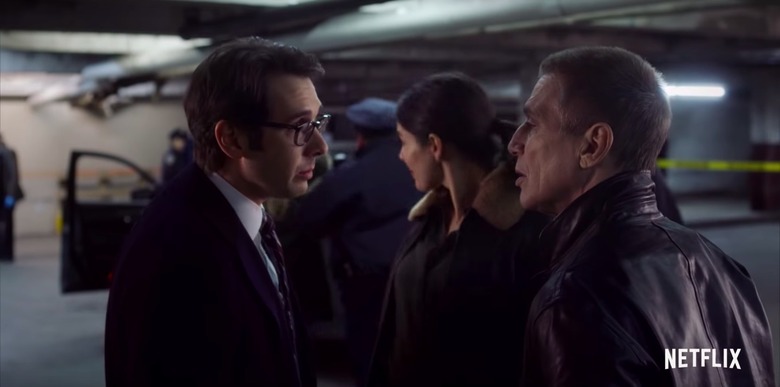 Josh Groban is setting aside his guitar and donning some nerdy glasses for his first lead role in a TV series with Netflix's The Good Cop. But for Groban's first venture into acting — aside from some cameos and bit parts in various series in the past — he's in good hands.The Good Cop comes from Andy Breckman, the creator of the massively successful detective comedy Monk, which dominated the Emmys for most of its run. And now he brings his brand of irreverent humor to another procedural, which stars Groban as the by-the-book son of a rogueish cop, played by Tony Danza.
The Good Cop Trailer
Tony Danza and Josh Groban are this year's odd couple, as a devil-may-care former cop and a straight-laced detective, both named Tony. And if that didn't give Tony Jr. enough of a complex, his father keeps butting into his cases, swaggering in with a sharp remark, a beautiful woman, and often a cigar. It's a perfect premise for Breckman to lay his signature irreverent humor on.
In the first trailer for the series, we get a good hard look at this tense father-son dynamic, as Danza leands hard into the old-school cop persona, and Groban effectively turns himself into a dweeby detective with the help of some glasses and a close shave. We also get a peek at Tony Jr.'s team, including his attractive female partner (Monica Barbaro) who adds some good old-fashioned sexual tension (because this is a police procedural, duh) — as the show delights to point out with a wink.
Here's the official description for The Good Cop:
Tony Danza plays Tony Sr. (Big Tony), a lovable yet not exactly honorable, former NYPD officer who never followed the rules. He lives with his son, Tony Jr. (TJ), Josh Groban, a brilliant, straight-laced NYPD detective who makes a point of always following the rules while solving Brooklyn's toughest cases. This "odd couple" become unofficial partners as Tony Sr. offers his overly-cautious son blunt, street-wise advice.
The Good Cop premieres on Netflix on September 21, 2018.