YouTube Is Considering More Than 10 Episodes For 'Cobra Kai' Season 2 [TCA 2018]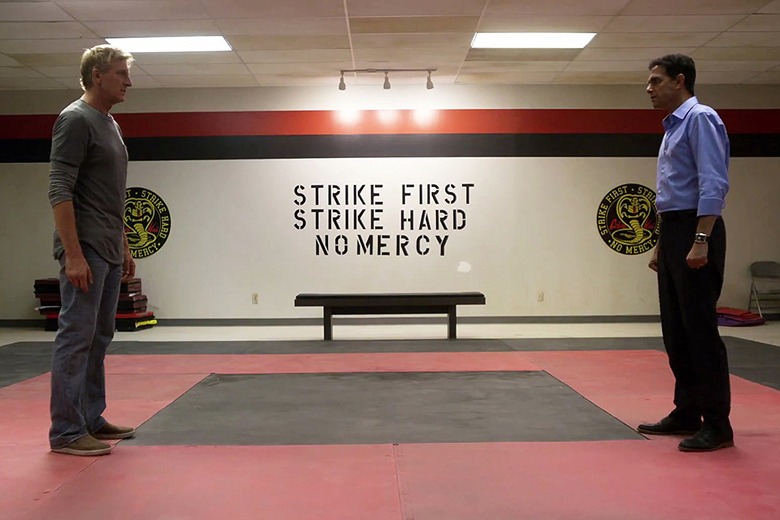 Susanne Daniels, Global Head of Original Content for YouTube, returned to the Television Critics Association after a breakthrough season that saw the renewals of Cobra Kai, Impulse and Step Up: High Water. /Film asked Daniels about the second season of Cobra Kai during her executive sessions, and we may have incepted her to increase the episode order by asking if there would be more than 10 in season two.
"Maybe we should do more than 10 episodes," Daniels said. "Hadn't thought about that."
Season 2 of Cobra Kai is on the fast track. It was renewed only one week after it premiered on YouTube Premium.
"They started," Daniels said. "We're in preproduction. We got it going as quickly as possible. Before Cobra Kai pickup, the average wait time between premiere and pickup was 6 weeks. Cobra Kai was a week to the day because it came out of the box fast. It resonated from the trailer. We were tracking intense enthusiasm from the launch of the first trailer. We are starting preproduction now. The writer are writing the episodes, we're casting."
Asked for more information about what new characters Cobra Kai was casting, Daniels only confirmed there would be some new characters.
The success of Cobra Kai did prove YouTube's data analysis correct. 
"We knew Karate Kid was a really popular IP on YouTube and that translated," Daniels said. "I always say this: In the end it's about execution of the show. It translated. There was a huge appetite to check out Ralph [Macchio] and Billy [Zabka] and see where the Karate Kid franchise was going to go, but the creators did such a beautiful job of creating such an innovative show. In the end the show did the heavy lifting."
Cobra Kai earned YouTube an Emmy nomination for stunts, but Daniels was hoping the dramatic quality of the show would be recognized by the Television Academy.
"It's not enough," Daniels said. "We were robbed. I'm sorry, but Cobra Kai deserved much more in my humble opinion and I didn't write the show. I just bought the show and got lucky but I think the show is great. I know it's self serving to say that. It's done incredibly well and the Emmy voters should've recognized it in more ways than just stunts, although the stunts are very good."
Cobra Kai season 1 is currently streaming on YouTube Premium.
Update: Speaking after the panel, Daniels told us that Martin Kove, whose villainous Kreese made a surprise return at the end of season 1, will not be in every episode of season 2. However, his overall involvement in the season was described as substantial.