Peter Dinklage To Star In 'Rumpelstiltskin' Movie For Sony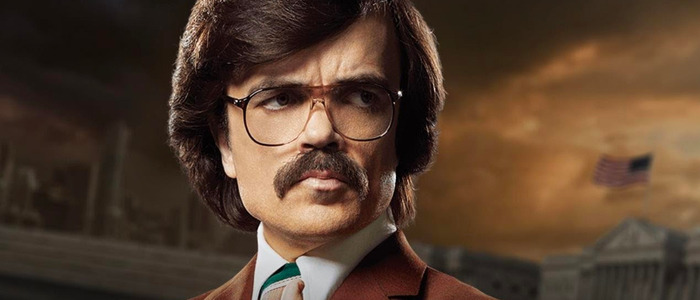 Ready for a big budget Rumpelstiltskin movie? Sure, why not! Let's do this! Sony is going all-in on a film based on the fairy tale character, and they have Peter Dinklage in the lead. The Game of Thrones actor will star and produce the film, based on the legendary tale of a man who turns straw into gold and also wants to steal babies.
Variety has the scoop on the Rumpelstiltskin movie and Dinklage's involvement. A Monster Calls writer Patrick Ness will pen the script. Plot details are being kept secret, because I guess no one wants to give away too much about the Rumpelstiltskin movie. The character has origins in German folklore, and was popularized by the Brothers Grimm in the 1812 edition of Children's and Household Tales. Research indicates the core story is nearly 4000 years old, though.
In the Brothers Grimm version, a miller lies to the king and says, "Guess what – my daughter can spin straw into gold!" All things considered, this is a stupid thing to tell a king. The king falls for it though (people were dumb back then), and imprisons the miller's daughter in a tower and orders her to get to work on that whole "straw into gold" thing. The young woman is understandably upset about all of this, and just when she's lost all hope, who should show up but that a**hole Rumpelstiltskin. Rumpelstiltskin has the power to turn straw into gold, and he offers to help the young woman – for a price. She'll have to give him her first born child in return (this dude sounds like a creep). The only way the young woman can defeat Rumpelstiltskin is by learning his name.
This certainly sounds like blockbuster material, so I can understand why Sony wants to make this happen. Variety adds this interesting tidbit: "It's unknown if the story will be set in modern times or its original setting." Personally, I'm hoping for a modern-day retelling of Rumpelstiltskin, just because I really want to see what the heck that would look like.
Rumpelstiltskin was adapted into a really bad horror movie in 1995. In that film, Rumpelstiltskin is imprisoned in a small figurine in the 1400s, only to be revived in present day. Here's the trailer.
Rumpelstiltskin Trailer
I'm not going to say this is a movie you need to seek out, but film does feature this amazing scene, which I really hope ends up in the Sony version as well.