'Amiko' Is A Microbudget Wonder And A Different Kind Of Coming-Of-Age Movie [Fantasia Film Festival]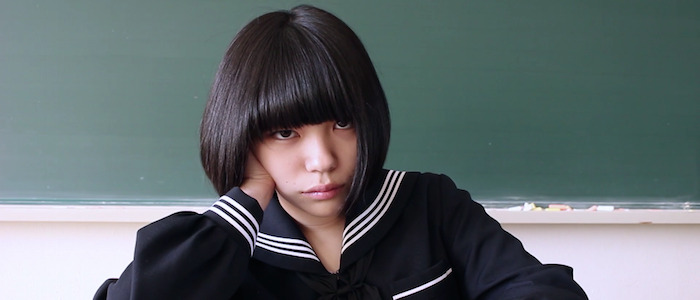 "At what point will happiness happen?" muses Amiko, the lost teenager (I guess that's redundant) in the eponymous film. She lives in the city of Nagano, in central Japan. But it might as well be the seventh circle of hell. Early on in the film, she falls in love with Aomi (Hiroro Oshita) in the space of a single conversation. They talk about their mutual love of Radiohead, their mutual hatred for sports, and their shared boredom. Sounds like a first love, right? You would think so, but Amiko (Aira Sunohara) will have to wait months before she can speak to him again. By that time, she will have tracked him down in Tokyo, where he is living with an older, ex-student.
Amiko is the first feature from 20-year old wunderkind Yoko Yamanaka, a female filmmaker who made the film on a shoestring budget of $2, 500. Though it is a coming of age story in technical terms, leave your Ladybird comparisons at coat check for this one. The film isn't about the complex relationship young women have with their mother. In fact, we are not even offered a glimpse of Amiko's parents. As per the title, the film exists solely in her world.
Yet, the film is permeated with a number of a inspired interactions Amiko has with passersby. In one scene, she walks up to a couple and forces them into a spontaneous dance in a Tokyo subway tunnel. One can imagine the spectacle a director could fabricate with a much bigger budget, but the film's lo-fi aesthetic pairs beautifully with the haphazardness of youth.
With all the torment of adolescence, Amiko is often hilarious. When Amiko and her best friend spy on a group of giddy girls fawning over an ex-student (and future girlfriend of Aomi), Amiko asks bitterly: 'How are they able to waste so much energy on a girl that isn't them?' After she tracks down Aomi, sneaks into his room, jumps on top of him and grills him on his poor (at least to her) romantic judgement. She asks him what he likes about his girlfriend, and he responds simply with: 'She's hot'. Amiko precedes to punch him, the letters 'P-U-R-E' written on each knuckle.
In its tight 66 minutes, Amiko rides the rollercoaster of female adolescence with manic yet focused energy. At the beginning of the film, we see Amiko watching Aomi play on the school soccer team from a class window. It's a beautiful image, not because of it's technical artistry, but because of the unsentimental longing it invokes. And there's a lot of that in the film. It's difficult not to depict the pangs of first love without getting a little misty-eyed. But Amiko is too busy to linger on precious moments. The kinetic camera zooms into faces and down busy streets. Certainly, there's a lot of mixing of styles in the film. One moment, Amiko's thoughts are heard in voice-narration, the next she's speaking to the camera. It's thanks to the fervent camera work and lead performance that the film feels so immediate. The film is short burst of angst. Not a cry for help, exactly. Just a cry. So listen up.
/Film Rating: 8 out of 10