Pop Culture Imports: Netflix's Epic Historical K-Drama, Luis Bunuel's Final Movie, An Anime Film From A Studio Ghibli Alum, And More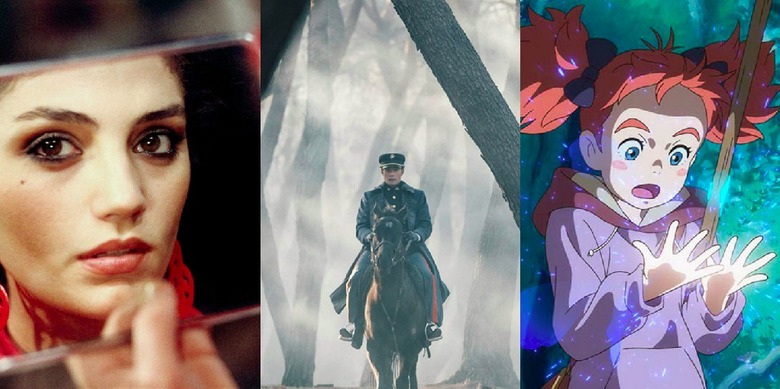 (Welcome to Pop Culture Imports, a column that compiles the best, wackiest, and weirdest foreign-language movies and TV shows streaming right now.)
Hello subtitle lovers! We're back for another round of Pop Culture Imports, wherein I recommend to you good foreign-language movies and TV shows, and we binge-watch them all together to make us feel like we're learning another language. This week, we have a historical epic K-drama from the writer of last year's supremely popular Goblin, Luis Bunuel's mystifying final film, a harrowing Amazon adventure film, a tender Indian fable about a boy and his donkey, and an enchanting anime from a Studio Ghibli alum.
Let's dive into the best foreign movies and TV shows streaming now.
1. Mr. Sunshine – Netflix
Country: South Korea
Genre: K-drama
Creators: Kim Eun-sook, Lee Eung-bok.
Cast: Lee Byung-hun, Kim Tae-ri, Yoo Yeon-seok, Kim Min-jung, Byun Yo-han.
It's easy to balk at the prospect of watching a historical K-drama: they're typically longer, stodgier, and a little bit too melodramatic for the already-melodramatic genre. But under the guidance of Kim Eun-sook and Lee Eung-bok — the acclaimed co-creators behind last year's magnificent fantasy series Goblin and 2016's hit drama Descendants of the Sun — Mr. Sunshine promises to be a step above the rest. In fact, with its epic scale and multitalented ensemble, Mr. Sunshine could very well be the Korean response to Game of Thrones.
Set in the early 1900s, Mr. Sunshine stars international star Lee Byung-hun (whose resume includes The Magnificent Seven) as Eugene Choi, a Korean-born U.S. Marine who returns to his homeland at the height of the Joseon dynasty's rebellion against its Japanese invaders. But once there, he falls in with Ae-shin (The Handmaiden breakout Kim Tae-ri), an aristocrat's daughter, and discovers a sinister plot to colonize the country from which he once fled. Mr. Sunshine pays slavish attention to the historical events it's based around, and as a result, can often become a jumble of confusing facts and dates. But Kim Eun-sook proves to be an astute writer, anchoring the series in moments of thrilling drama and action, and amping up the tantalizing romance between Eugene and Ae-ssin.
The 24-episode season premiered internationally on Netflix and is currently six episodes into its run. New episodes will drop on the streaming service weekly.
Watch This If You Like: Goblin, Descendants of the Sun, Boardwalk Empire, Game of Thrones, leaving Masterpiece Theatre on in the background while you do your laundry, only to get sucked into the latest episode of Victoria.
2. That Obscure Object of Desire – Fandor
Country: France, Spain
Genre: Dramedy
Director: Luis Buñuel
Cast: Fernando Rey, Carole Bouquet, Angela Molina.
Luis Bunuel's final film is as perplexing as the rest of his catalogue and a fitting swan song for the legendary Spanish director. Bunuel paints That Obscure Object of Desire with his signature surrealist brush, producing a weird and whimsical comedy about the ephemeral nature of love. In That Obscure Object of Desire, frequent Bunuel collaborator Fernando Rey stars as a middle-aged wealthy Frenchman who falls head over heels for a young, beautiful Spanish dancer Conchita. But in an unusual and never-explained choice, Conchita is played by two different actresses, the statuesque Carole Bouquet and the dark beauty Angela Molina. The switch between the two actresses that is given barely any attention in the film itself and no explanation on Bunuel's part — but it's a handy way of portraying a bewildering woman is literally two people in one and to anchor the film's absurd dive into sexual politics. Set against the backdrop of a local terrorist insurgency, That Obscure Object of Desire skirts issues of politics, perversions, and religion with a droll wit, always ready to jolt you out of complacency with a reminder that this is Bunuel at his wackiest.
Watch This If You Like: Phantom Thread, Amelie, The Lobster, pretending you saw The Discreet Charm of the Bourgeousie in film class when you really fell asleep.
3. Embrace of the Serpent – Hulu
Country: Colombia
Genre: Adventure drama
Director: Ciro Guerra
Cast: Jan Bijvoet, Nilbio Torres, Antonio Bolívar.
Embrace of the Serpent bucks a lot of expectations of what an Amazon adventure film looks like: it's in black and white where other films would be lush, it's slow-moving and surreal where others are packed with action, and it's told from the perspective of an Amazonian shaman Karamakate (Nilbio Torres) who is roped into being the guide of a sick German explorer (Jan Bijvoet). And yet, it may be one of the greatest films about the Amazon yet. Along with the explorer's local guide (Miguel Dionisio Ramos), the trio search for a rare healing plant — a journey whose aftereffects will echo years in the future when an older Karamakate meets an American botanist (Brionne Davis) searching for the very same plant.
Embrace of the Serpent dramatically subverts the trope of the noble savage and delivers a searing indictment of colonialist imperialism, playing like an antithesis to the ultimate problematic piece of literature, Heart of Darkness. And despite its black and white aesthetic, Embrace of the Serpent is both thematically and visually rich. Director Circo Guerra turns a loving eye toward the majesty of the Amazon jungles of Colombia before his hypnotic film descends into a metaphysical madness.
Watch This If You Like: Lost City of Z, Apocalypse Now, Silence, hating on Heart of Darkness.
4. Tahaan – Netflix
Country: India
Genre: Drama
Director: Santosh Sivan
Cast: Purav Bhandare, Anupam Kher, Sarika, Rahul Bose, Rahul Khanna, Victor Banerjee.
A tender tale of a boy and his donkey, Tahaan is a Hindi film set in the rugged landscape of Kashmir, a mountainous region of northern India ravaged by Indo-Pakistani wars. Tahaan follows the titular 8-year-old boy (Purav Bhandare), whose life revolves around his beloved donkey Birbal, which his father had gifted him before disappearing amid attacks on their village. Now refugees living in the mountains, Tahaan's family scrapes by with menial tasks and labor to pay off their debtors, but are forced to sell Birbal when Tahaan's grandfather dies. Desperate to take Birbal back, Tahaan traces his donkey to a tradesman (Anupam Kher) who regularly makes grueling trips through the mountains and through the tense Indo-Pakistani checkpoints. Tahaan offers to work for Birbal's return, but as political tensions keep escalating, the naive boy finds himself unwittingly embroiled in a terror plot.
Tahaan offers a beautiful and lush glimpse of a region of India we're not quite familiar with, through the lens of a modern-day fable. And thanks to a a tour-de-force performance from Purav Bhandare, Tahaan is equal parts heartwarming and heart-wrenching.
Watch This If You Like: Okja, Old Yeller, Heidi, Persepolis, donkeys.
5. Mary and the Witch's Flower – Netflix
Country: Japan
Genre: Animated
Director: Hiromasa Yonebayashi
Cast: Ruby Barnhill, Kate Winslet, Jim Broadbent (Only available dubbed on Netflix).
When Studio Ghibli temporarily shuttered production back in 2014, it left a hole in the Japanese animation market that dozens of studios leapt at the chance of filling. In steps Studio Ponoc, whose inaugural film would have the advantage of being directed by Studio Ghibli alum — not to mention a remarkably similar animation style. So does Mary and the Witch's Flower live up to expectations? Yes and no. Helmed by Hiromasa Yonebayashi (When Marnie Was There, The Secret World of Arrietty), Mary and the Witch's Flower adapts Mary Stewart's children's book The Little Broomstick into an enchanting and stunningly animated little film. But in classic Ghibli fashion, the film barely resembles the 1971 novel at all, instead presenting a dreamy and surreal vision of a young girl's coming-of-age adventure.
Mary and the Witch's Flower follows the insecure, stubborn Mary Smith as she moves into the estate of her kindly Great Aunt Charlotte ahead of her parents. Bored and friendless, Mary butts heads with a local boy who makes fun of her hair and wanders into the nearby woods, where she finds a rare "fly-by-night" flower that grants her magical powers. Soon, she's accidentally whisked away to an alternate world where she's recruited into a school of witches by an eager Headmistress who may not be as sincere as she seems.
Mary and the Witch's Flower hits a lot of the familiar Studio Ghibli beats almost too well, with scenes reminiscent of Kiki's Delivery Service and Spirited Away. But it's a lovely and charming adventure movie that marks a promising future for the fledgling Studio Ponoc.
Watch This If You Like: Howl's Moving Castle, Kiki's Delivery Service, Paddington 2, Alice in Wonderland, missing Studio Ghibli like crazy.