Greta Gerwig's 'Little Women' Eyes 'Sharp Objects' Breakout Eliza Scanlen For Beth March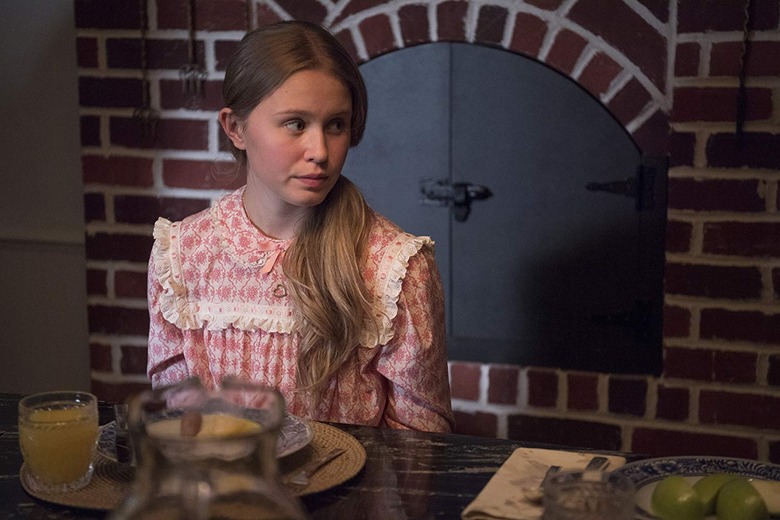 Could Eliza Scanlen be our Beth March? The young breakout star of HBO's Sharp Objects miniseries has a bright career ahead of her, with new reports suggesting that Scanlen could soon join Greta Gerwig's star-studded Little Women cast.
Eliza Scanlen is in talks to join Greta Gerwig's remake of Louisa May Alcott's American classic, Little Women, Variety reports. Scanlen is reportedly testing alongside Emma Stone, who plays the oldest March sister Meg in Gerwig's "retelling" of the drama about four sisters coming of age during the Civil War.
While the reports don't disclose what role she is up for, Scanlen is believed to be testing for the role of Beth March, who is the only sister that has not been cast yet. If she nabs the role, Scanlen would be starring opposite Saoirse Ronan, who plays the protagonist Jo March, Meryl Streep, who plays the March matriarch Marmee, and Timothee Chalamet, who plays the dreamy next-door neighbor, Laurie. Florence Pugh has also been cast as (a likely older version of) Amy March.
It's a big get for Scanlen, who earned positive reviews for her riveting turn as Amy Adams' half-sister in Sharp Objects. Sharp Objects sees Scanlen holding her ground against Oscar-nominated actresses Adams and Patricia Clarkson, and Little Women would put her opposite even more Oscar nominees like Ronan, Stone, and Chalamet, as well as the unrivaled Streep. Not bad for her second major project.
The role of Beth March is a pivotal one. The kind-hearted middle sister is the lynchpin of the family, and the emotional core around which the first half of Alcott's book revolves. It's a juicy, but sort of thankless role that requires a degree of finesse to avoid veering into emotional manipulation. Scanlen is definitely talented, but what's most important is her chemistry with the rest of the cast, which I'm sure the screen tests with Stone and other cast members will determine. She and Pugh are the least well-known in the cast thus far, but by the time Little Women rolls around, Scanlen will surely make an impact.
If Scanlen is cast, she would take over the role that Claire Danes brought to life in the beloved 1994 adaptation starring Winona Ryder and Christian Bale. Little Women has been adapted numerous times over the years, but the 1994 version remains a staple that Gerwig will have to overcome with her adaptation. But as the cast grows to include even more talent, I cannot wait to see what Gerwig will do with Little Women.