Gary Oldman To Star Opposite Amy Adams In 'The Woman In The Window'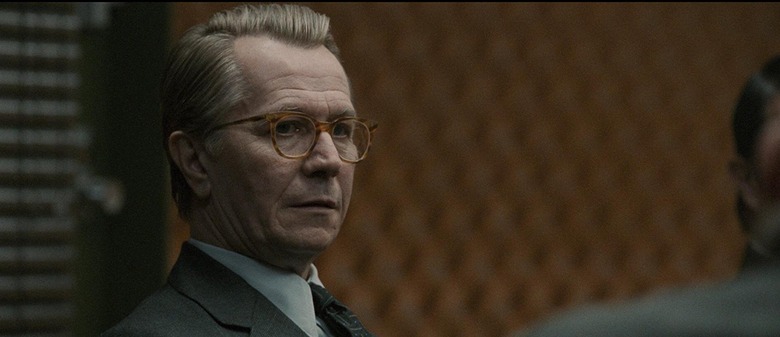 Gary Oldman will reteam with Darkest Hour director Joe Wright in the upcoming drama The Woman in the Window. Oldman will star opposite Amy Adams, who has already been cast in the Fox 2000 adaptation based on A.J. Finn's Rear Window-inspired novel.
The Hitchcockian drama based on Finn's novel of the same name has added Gary Oldman to the cast, according to The Hollywood Reporter. This will reunite Oldman with Joe Wright, who helmed Darkest Hour, which scored Oldman a Best Actor win at the Oscars.
The Woman in the Window stars Amy Adams in the lead role as an alcoholic recluse who spies on her neighbors, and one day witnesses a horrible crime involving a neighboring family. But when no one, not even the police, believes her story, she begins to doubt herself. Oldman will play the father of the mysterious neighboring family that Adams' character spies on.
Here's the synopsis of the novel:
It's been ten long months since Anna Fox last left her home. Ten months during which she has haunted the rooms of her old New York house like a ghost, lost in her memories, too terrified to step outside.
Anna's lifeline to the real world is her window, where she sits day after day, watching her neighbours. When the Russells move in, Anna is instantly drawn to them. A picture-perfect family of three, they are an echo of the life that was once hers.
But one evening, a frenzied scream rips across the silence, and Anna witnesses something no one was supposed to see. Now she must do everything she can to uncover the truth about what really happened. But even if she does, will anyone believe her? And can she even trust herself?
The story obviously takes cues from Alfred Hitchcock's Rear Window, though with its modern-day context, it will likely play more like The Girl on the Train or Gone Girl. Let's hope with the cast's impressive pedigree, and with Joe Wright helming the film from a script by Tracy Letts, will allow this one to veer closer to the latter. The Girl on the Train also promised to be a Hitchcockian suspense story, and instead became a frustrating melodrama more akin to a Lifetime movie. And unfortunately, the synopsis for The Woman in the Window novel hews more closely to The Girl on the Train, which was a bad book and a bad movie. Let's hope that The Woman in the Window won't waste the immense talents of Amy Adams and Gary Oldman like The Girl on the Train wasted Emily Blunt.
The Woman in the Window was released in bookstores in January and remains the biggest-selling adult fiction title of 2018, with over one million copies sold in the U.S.