Emma Thompson Joins 'Men In Black' Spin-Off, Playing Her Character From Part 3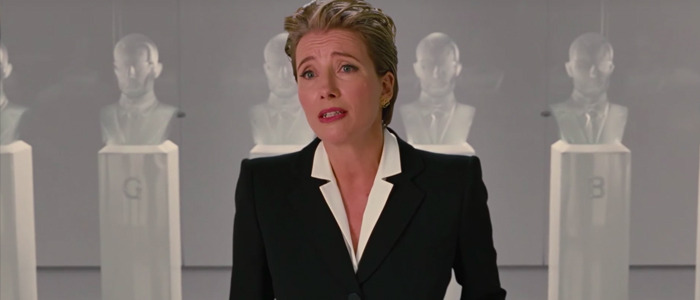 Emma Thompson better start cranking some AC/DC tunes, because she's back in black.
The Oscar-winning actress and screenwriter is donning a black suit yet again to star in Sony's Men in Black spin-off, reprising her role of Agent 0 from 2012's Men in Black 3. Read more about the Emma Thompson Men in Black spin-off role below.
Thompson, a dual threat who won Oscars for acting in Howards End and writing for Sense and Sensibility, will once again play Agent O, the chief of the secret Men in Black organization. Her character took over that role from Zed (Rip Torn), the MiB's leader in both Men in Black and Men in Black 2 who died in the third entry. Like Torn and series star Tommy Lee Jones, Thompson is a welcome addition to any cast and manages to pull off this franchise's necessary combination of straight-faced silliness with utter glee. I mean, just watch what she does in this clip:
This will be the second time Thompson has returned to play the same character in a popular film franchise; she previously played Professor Sybil Trelawney in the Harry Potter movies.
This spin-off is intended to relaunch the sci-fi franchise. F. Gary Gray (The Fate of the Furious, The Italian Job) is directing. Emma won't be the only Thompson on set: Tessa Thompson (Annihilation, Westworld) is headlining along with her Thor: Ragnarok co-star Chris Hemsworth. The cast is already shaping up very well: in addition to those three, the production has already secured the talents of Liam Neeson, Kumail Nanjiani, and Rafe Spall.
The script, by Iron Man writers Matt Holloway & Art Marcum, is said to expand the franchise to a more global scale. The story will reportedly not feature the beloved Agents J and K played by Will Smith and Tommy Lee Jones in the original films (though I wouldn't rule out a quick cameo), but will reportedly be more of an ensemble piece about the secretive government agency that defends Earth from hostile aliens and helps friendly aliens settle into human society. Neeson will play the head of the Men in Black's London division, where the story is said to begin. Perhaps he'll share the screen with Thompson somehow, marking a nice Love Actually reunion between those two performers.
The untitled Men in Black spin-off/reboot will arrive in theaters on June 14, 2019.