'I Think We're Alone Now' Trailer: Peter Dinklage And Elle Fanning Are The Last People On Earth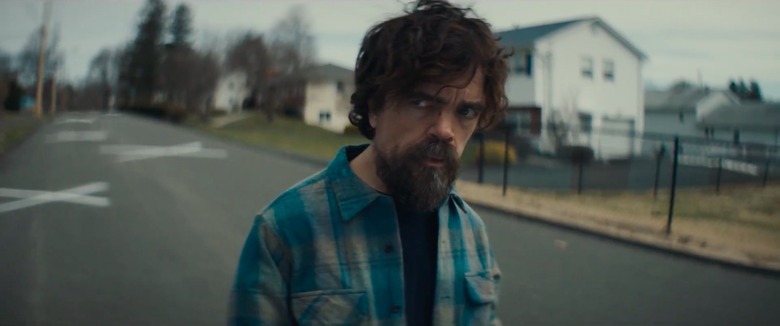 Post-apocalyptic dramas are a dime a dozen, but Emmy-winning director of The Handmaid's Tale Reed Morano offers something a little different in I Think We're Alone Now. The Sundance special jury prize winner follows the last man on Earth with a peculiar mindset: he likes being alone. The first moody teaser trailer for I Think We're Alone Now has been released, and it paints a peculiar post-apocalyptic drama anchored by a solemn Peter Dinklage.
I Think We're Alone Now Trailer
Peter Dinklage stars as Del, the last surviving man on Earth who was a loner long before he was truly alone on Earth. But Del's quiet utopia is interrupted at the arrival of an ebullient teenager, Grace, played by Elle Fanning. The teaser trailer doesn't show much of Fanning at all except for her voice, which pesters Del about his solitude, and perhaps a glimpse of her shoulder at the end. The trailer cuts us off right before it's revealed who was sitting in the crashed car that Del has discovered in the middle of his peaceful small town.
I Think We're Alone Now debuted at Sundance in January, where it picked up a special jury prize for "excellence in filmmaking." It was a much-anticipated return to feature filmmaking for Morano, who had recently picked up an Emmy for her work in The Handmaid's Tale. Morano explained why was attracted to I Think We're Alone Now, which more resembles an episode of The Twilight Zone than the post-apocalyptic action adventures we're used to today. She told EW, "I saw this opportunity to tell a post-apocalyptic story that breaks a lot of the conventions of storytelling in that genre."
/Film's Ben Pearson saw the film at Sundance, and in his review called it "a poignant and humanist showcase of growth and compassion. Quiet, reflective, and intimate, I Think We're Alone Now is an exceptional exhibition for Dinklage and Fanning and a further illustration of the dynamic talent of filmmaker Reed Morano."
Here's the official synopsis to I Think We're Alone Now:
Del (Peter Dinklage) is alone in the world. After the human race is wiped out, he lives in his small, empty town, content in his solitude and the utopia he's methodically created for himself — until he is discovered by Grace (Elle Fanning), an interloper whose history and motives are obscure. Worse yet, she wants to stay.
I Think We're Alone Now opens in theaters on September 21, 2018.