'Peterloo' Trailer: Mike Leigh Brings To Life One Of Britain's Bloodiest Massacres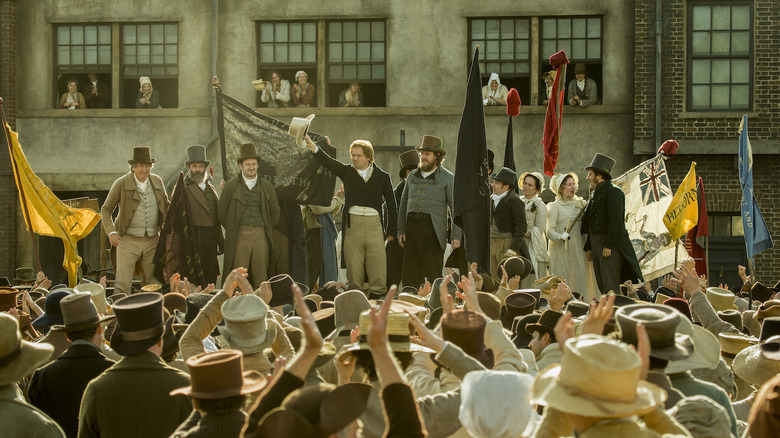 Mike Leigh is returning to the historical drama four years after his acclaimed, Oscar-nominated 2014 film Mr. Turner. The British director is teaming up with Amazon Studios to helm Peterloo, a historical epic about one of the bloodiest massacres in British history. And the first trailer proves that Leigh is diving into one of his most ambitious films to date.
Peterloo Trailer
Peterloo chronicles the infamous Peterloo Massacre of 1819, when government-backed cavalry charged into a crowd of 80,000 peaceful protesters demanding the reform of parliamentary representation. The ensuing chaos resulted in the deaths of 15 people and inured 400–700 more. It was a defining moment in British history, and one that Mike Leigh immaculately captures in the Peterloo trailer.
Subdued and lush, the Peterloo trailer elegantly portrays the despair of the working-class people who demand better representation and rights. It's a brief teaser trailer, but in the minute-long clip, you can feel the swelling of pride and inspiration throughout.
The historical drama seems to stand in stark contrast to the rest of Leigh's filmography, with films like Naked, Secrets & Lies, and Happy-Go-Lucky embodying a distinct type of kitchen-sink realism. But the British director seems to have taken a turn after his 2014 biopic Mr. Turner, which garnered four Oscar nominations for its depiction of the life and career of radical painter J. M. W. Turner, played by Timothy Spall.
Written and directed by Leigh, Peterloo stars Rory Kinnear, Maxine Peake, Neil Bell, Philip Jackson, Vincent Franklin, Karl Johnson, and Tim McInnerny.
Here is the official synopsis for Peterloo:
Internationally acclaimed and Oscar-nominated filmmaker Mike Leigh portrays one of the bloodiest episodes in British history, the infamous Peterloo Massacre of 1819, where government-backed cavalry charged into a peaceful crowd of 80,000 that gathered in Manchester, England to demand democratic reform.
Peterloo opens in theaters on November 9, 2018.