'Batman: Hush' Leads DC's 2019 Slate Of Animated Movies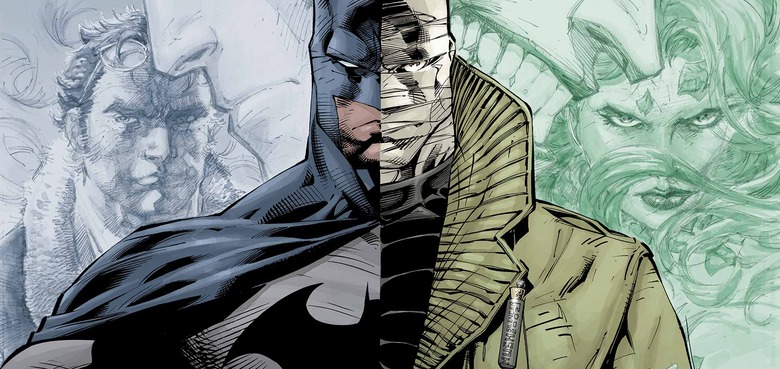 One of the most popular Batman stories is finally getting an adaptation. Batman: Hush, the game-changing comic book series created by Jeph Loeb and Jim Lee in 2002 and 2003, will be receiving the animated movie treatment as a DC Universe Original Movie. And it will be one of four DC animated movies coming direct to video next year.
Warner Bros. Entertainment announced its 2019 slate of animated movies coming direct to video, including the long-overdue adaptation of Batman: Hush.
Batman: Hush is one of four original DCU animated films announced at San Diego Comic-Con this weekend, which include The Reign of the Supermen, Justice League vs. The Fatal Five, and Wonder Woman: Bloodlines.The Reign of Superman kicks things off in early 2019, followed by Justice League vs. The Fatal Five in the spring, and Batman: Hush in summer 2019. The release date for Wonder Woman: Bloodlines has not been announced yet.
Warner Bros. Home Entertainment typically releases three DC Universe movies every year, a fourth film, Wonder Woman: Bloodlines, will be dedicated to Wonder Woman following her massive surge in popularity thanks to Patty Jenkins' Wonder Woman and the character's fan-favorite 2009 animated movie.
But the most anticipated adaptation is certainly Batman: Hush, which will adapt one of the most influential comic book stories of the Caped Crusader. The 12-issue comic book series has been hailed as one of the all-time great Batman stories, and has defined the current tragedy-steeped era of Batman, for better or for worse. DC Entertainment has been trying to develop a Batman: Hush story for years, with Kevin Conroy and Mark Hamill teasing an adaptation recently in 2017.
DC Entertainment promises everything fans love about Batman: Hush and more:
The comic storyline featured popular Bat baddies like Poison Ivy, Ra's al Ghul and the Joker, but it's also well known for introducing the villain it's named after—the bandage-faced Hush. While a child version of the character has made a couple of appearances on Gotham and Hush has appeared in video games like the Arkham and LEGO Batman titles, he's never before appeared in a DC Universe Movie.
There has been no word yet on casting or the creative teams for the films. Look to see those announcements soon in the coming months.