'Young Justice: Outsiders' Trailer: Your Favorite Sidekicks Return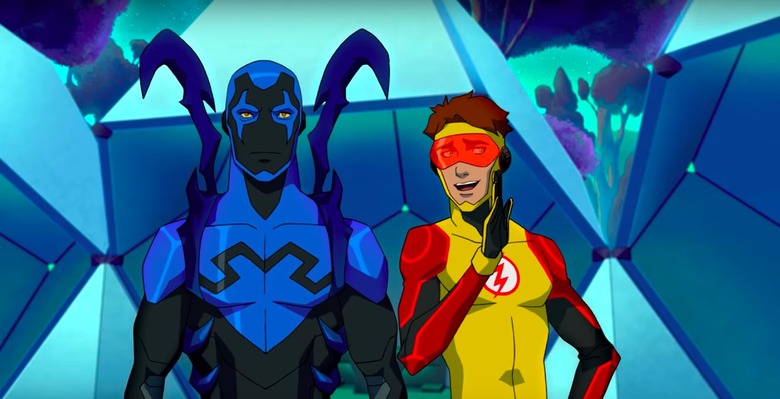 The wait is over: Young Justice is officially back. The long-awaited third season of Young Justice, titled Young Justice: Outsiders, will be premiering on DC Entertainment and Warner Bros.' streaming service DC Universe five years after the animated series was unjustly canceled by Cartoon Network.
Warner Bros. dropped the Young Justice Outsiders trailers at Comic-Con this weekend, giving us a glimpse of a darker, more ambitious new season anchored by some familiar and some all-new faces.
Young Justice Outsiders Trailer
Your favorite sidekicks are back in Young Justice: Outsiders – but don't call them sidekicks. The team first led by Nightwing, Superboy, Aqualad, Miss Martian, Kid Flash, and Artemis are all grown up now and dealing with a lot of trauma. But they have a world to save, and dozens of new members to welcome into the fold. Young Justice: Outsiders picks up a few years after the events of season 2, which saw the team help the Justice League stop an alien invasion and win an invite to join Batman, Superman, and the rest of the League on the Watchtower base. But that victory came at a price: the life of Kid Flash, a.k.a Wally West, who was killed in the climactic battle.
The new trailer recounts those events in excruciating detail (skip to 3:02 if you want to get to the real trailer), and picks up with a battered and cynical team on board for one last job. "There's a metahuman trafficking syndicate in Markovia that we can shut down with your help," a stockier, older Nightwing (Jesse McCartney) tells the team. "When it's all over, we go our separate ways. No muss, no fuss."
Along with Nightwing's new muscles comes a bearded Aqualad (Khary Payton), a still-angry Superboy (Nolan North), and an emotionally wounded Artemis (Stephanie Lemelin), who grieves the loss of her boyfriend Wally. We get a few glimpses of some old friends as well, including Supergirl, Blue Beetle, Impulse/Bart Allen (landing a witty joke, of course), and some of the Leaguers as well. The trailer also introduces our newest character, Brion Markov (Troy Baker), the Prince of Markovia who discovers that he has the metahuman gene.
Here is the official synopsis for Young Justice:
Highly anticipated by fans and picking up after the dramatic events of Season 2, Young Justice: Outsiders finds our heroes reuniting to take down a metahuman trafficking organization. This special San Diego Comic-Con sneak peek relives some of Young Justice's most impactful moments before giving us our first look at Outsiders.
The show will be arriving on DC Universe (DC's new streaming service) sometime soon.