'Cut Throat City' Trailer: RZA's Heist Film Takes Place In The Aftermath Of Hurricane Katrina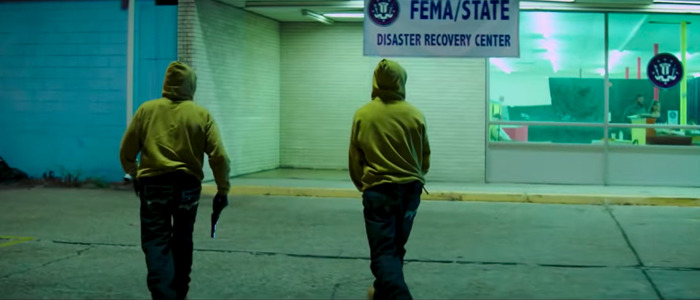 Wu-Tang Clan member RZA stepped into the world of filmmaking with The Man with the Iron Fists back in 2012, but he's put his kung fu influences aside for his latest movie. Cut Throat City is set in New Orleans in the immediate wake of Hurricane Katrina, when a group of childhood friends are forced into participating in an unconventional heist. The first trailer has arrived, and you can check it out below.
Cut Throat City Trailer
Cut Throat City stars Shameik Moore, Wesley Snipes, T.I., Terrence Howard, Demetrius Shipp Jr., Denzel Whitaker, Keean Johnson, and Kat Graham, and this movie may be worth seeing for that talented roster alone. The concept from rookie screenwriter Paul Cuschieri is interesting, too, and proof that people don't simply forget about a disaster on the scale of Katrina after a few years. There's still a righteous anger boiling just under the surface (rightfully so), and considering how Puerto Rico was recently devastated and our current administration isn't lifting a finger to do anything meaningful about it, this idea is still sadly just as relevant as ever.
Although RZA has a love of martial arts, as evidenced by The Man with the Iron Fists and directing an episode of Marvel's Iron Fist, he's showing that he's interested in more than that as a storyteller. His most recent movie, 2017's Love Beats Rhymes, was a small-scale project about an artist finding her voice. Underestimate RZA at your own peril – he's proving that he's not willing to be placed into one single box as a director.
Here's the film's official synopsis:
CUT THROAT CITY is the story of four boyhood friends in New Orleans' Lower Ninth Ward who return after Hurricane Katrina to find their homes decimated, no jobs, and no help from FEMA. Reluctantly turning to a local gangster for work, the friends are hired to pull off a daring heist in the heart of the city. But the job goes bad and they find themselves on the run, hunted by two idealistic detectives and a neighborhood warlord who thinks the friends stole the heist money. With their only way out to buy their way back, the friends decide to get what they need by turning the tables on the casinos that have taken from their city for years... by doing a little taking of their own.
Cut Throat City arrives in theaters sometime in early 2019.