'Unfriended: Dark Web' Review: It's All Fun And Games Until Hackers Get Involved [Fantasia Film Festival]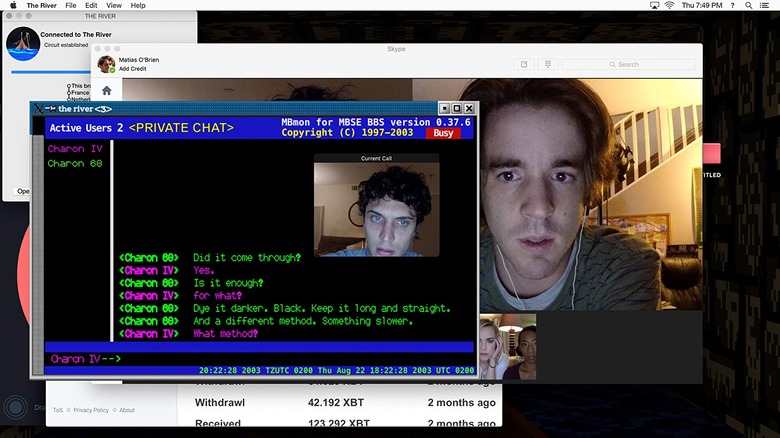 Picture this: a group of friends get together for their weekly game night. It's all fun and games until they get entangled in a mess they can't get out of and their innocent worlds collide with the dark underbelly of crime. If this sounds like the plot of Game Night, then you're half right, because it's also what happens in Unfriended: Dark Web (previously titled Unfriended: Game Night). The major difference between the two (and it's not the fact that only one is a comedy, because Unfriended is pretty funny) is in its form. The film takes place entirely on a laptop screen. In that sense, it's a sequel in form only to 2014's Unfriended (there is no haunted dead girl in this one).
It begins with a a log-in screen. The account has no name, just a "?". Whoever is using it, it is clearly not theirs, for they try a medley of passwords (most notably "feelthebern") until eventually they type "?". The choice of username and password point to the film's thesis, and perhaps a little too obviously. Would a half-decent troll really set their account name to a question mark?
But the laptop's user doesn't stay a mystery for long. It's revealed that Matias (Colin Woodell) found the MacBook in a coffee shop Lost & Found. He snapped it up, needing a faster computer so that he can work on an app he's developing in order to better communicate with his girlfriend Amaya (Stephanie Nogueras), who is deaf. But as we see in their first video call, the app becomes a point of conflict in their relationship. As hard as Matias may try, deafness is an obstacle that technology cannot fully bridge.
After their hard talk ends abruptly, he logs into Skype and so begins Game Night. As he and his friends play Cards Against Humanity, he peruses through the laptop, trying to find out why his apps keep shutting down. Turns out, the hard drive is full. And locked. When he opens it, he finds a folder filled with sinister videos. Evidently, the 'finder folder' is the new Pandora's box. Simultaneously, Matias is receiving angry (all-caps!) Facebook messages from someone claiming to be the owner of the laptop. But things really start to pick up when Matias gets a message from someone requesting trephination (when Googling, be sure to turn your SafeSearch on) in exchange for a hefty bitcoin transfer. And with that set up, the film is off to the races.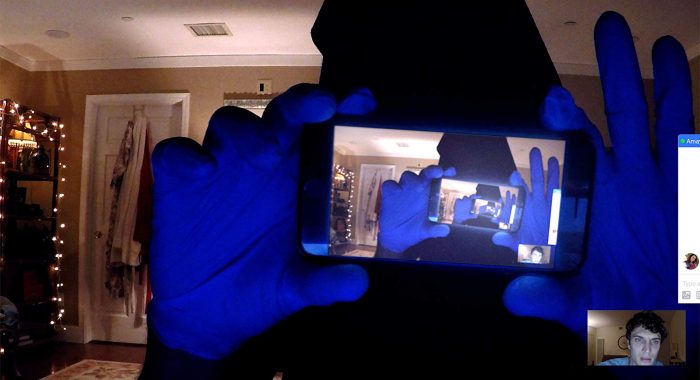 Unfriended: Dark Web's plot is pretty incredulous. But it would be a mistake to judge a film entirely on where it falls on the believability scale. If Matias had any common sense, he would take a sledgehammer to the laptop as soon as he was offered money to drill a hole into a teenage girl's skull. As for the script? Well, it's not the strongest element of the film. There's a lazy subplot involving a hospitalized mother that couldn't be more tacked on. And the characters, though very well rendered by the actors (specifically Blumhouse favorite Betty Gabriel), are either paper thin or caricatures.
[Editor's note: This film is currently in theaters with two different endings. The next paragraph will features spoilers for the ending that this reviewer saw.]
Once the pattern of kills is established, the movie's momentum falters. It becomes less a question of who is going to get whacked than a question of when and how. The ending's pan out of a desktop, revealing that the real game night was being played by the hackers, doesn't deliver the final blow that it should (unlike the blow that kills Matias).
[End of spoilers.]
But for all its failings, Unfriended: Dark Web is a compelling vision of the future of cinema. It's not that I think that all films will be recordings of someone's laptop (thank God), but "screenlife," as producer Timur Bekmambetov dubs it, offers a new cinematic language. The old "Don't answer the phone!" cry has turned into "Don't click the link!" The intruder in your bedroom is now the faceless account popping up into your Skype call. And many of the thrills occur in the time it takes for Mattias' girlfriend to reply and the rush you get when that little green dot appears next to her name.
Dark Web succeeds in capitalizing on our scattered attention. The Skype group calls and sharescreen functionality allow us to take in multiple reactions and a vast amount of information, the kind that shouldn't be delivered through dialogue. The film might not present a new take on how we live our lives online, but it reveals the intensity of a single click of the mouse or pop-up notification.
But with all the film's technical efficiency, the introduction of the black-clad internet trolls/criminals does not work. Their presence pixelates the screen, taking us out of the action. It's a step too far; instead of making us wonder, "How the hell do they pixelate themselves like that?", we just question director Stephen Susco's choice. The internet trolls in Unfriended can navigate the internet like no one else and use its limitless resources for evil-doing. But as soon as the criminals pixelate and their voices are warped, they lose all semblance of control. Are we supposed to fear someone who uses a voice muffler? If the horror of the internet is that criminals can hide behind their desktops and use their technical skill to get into yours, than why even reveal them at all? Faceless horrors are always the scariest.
/Film Rating: 6 out of 10
You can read /Film editor Jacob Hall's take on the film from the movie's SXSW premiere right here.