'Homecoming' Trailer: Julia Roberts Heads To TV For The Director Of 'Mr. Robot' [Comic-Con 2018]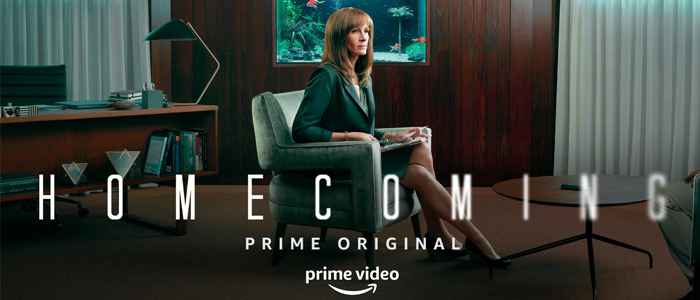 Homecoming, the mysterious new show from Mr. Robot creator Sam Esmail, marks the first major TV series for Julia Roberts, one of the most recognizable movie stars on the planet. The new show – which is based on a popular podcast – just debuted its first trailer at San Diego Comic-Con International, and you can check it out for yourselves below and find out some new details about the series straight from Esmail himself.
Homecoming Trailer
Meticulously framed shots, an unsettling tone, eerie sound effects – yep, this is a Sam Esmail project, all right. More than anything, this teaser shows off the production design of the series, which looks pretty damn cool.
Oh. Right. You're probably wondering what the heck this thing is even about. Here's the show's official synopsis:
Homecoming is a mind-bending psychological thriller starring Julia Roberts and directed by Sam Esmail (creator of Mr. Robot). Heidi Bergman (Roberts) is a caseworker at the Homecoming Transitional Support Center, a Geist Group facility helping soldiers transition back to civilian life. Walter Cruz (Stephan James) is one of these soldiers, eager to begin the next phase of his life.  Overseeing Heidi and the facility is Colin Belfast (Bobby Cannavale), an ambitious company man whose manic demands point to questionable motives.
Four years later, Heidi has started a new life, living with her mother (Sissy Spacek) and working as a small-town waitress, when a Department of Defense auditor (Shea Whigham) comes to her with questions about why she left the Homecoming facility. Heidi begins to realize that there's a whole other story behind the story she's been telling herself.
Roberts, Whigman, Cannavale, and Spacek, all in the same show? Yes please.
Homecoming is based on a popular 2017 podcast from creators Eli Horowitz and Micah Bloomberg, which was a compelling drama that lured listeners into the podcast's realistic world. There's an inherent sense of mystery around the whole thing; you're never quite sure what kind of story this is going to be. Does Heidi know more than she's letting on? Is the Homecoming facility hiding a dangerous secret? Are the relationships being forged actually genuine, or are they a facade – a performance for eavesdropping eyes and ears?
During the presentation in Ballroom 20, showrunner Sam Esmail explained that he loved the podcast and didn't want to change it in the adaptation. The series is not a whole different world, but on the other hand "there is stuff in there that will surprise some people." Esmail lovingly said that the podcast was cleverly written partially due to the limitations of being an audio medium, and it was tricky to translate it to the screen.
Esmail says Homecoming is a psychological thriller that is different than modern day psychological thrillers. The twists and turns in this series are character moments and reveals, rather than the typical car chases we see in contemporary films. His approach to this was to emulate some of the masters he looked up to, Hitchcock and DePalma, so much so that when he was trying to figure out the music for the series, he decided to not create a new score but to license score from 1970s classic thrillers.
Roberts takes over for Catherine Keener in the lead role, and it'll be interesting to see how Esmail chooses to bring this aural world to life in a visual medium. If this video is any indication, its characters are at least going to be inhabiting lots of very gorgeous rooms.
Homecoming will premiere on November 2, 2018 on Amazon Prime Video.