Art Deco-Inspired 'Fantastic Beasts: The Crimes Of Grindelwald' Poster Hits Comic-Con 2018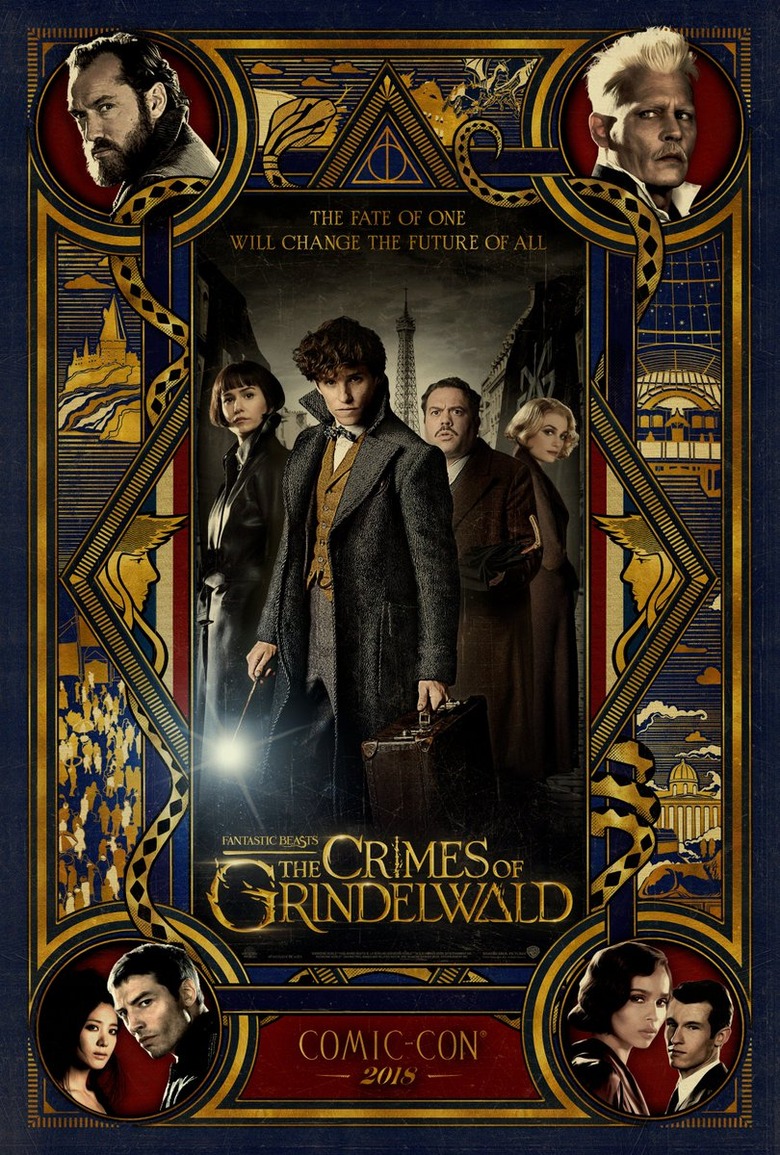 Ahead of Warner Bros.' highly anticipated panel for the upcoming Fantastic Beasts sequel, a new Fantastic Beasts The Crimes of Grindelwald poster has been released. And it pays glorious homage to the art-deco style of the Wizarding World sequel's 1920s setting.
When Newt Scamander (Eddie Redmayne) arrives in New York City in 1926, he's greeted by the soaring spires and bold geometrical patterns of Art Deco, the architectural and art style that swept the world shortly before World War I. But in Fantastic Beasts: The Crimes of Grindelwald, Newt actually travels to the birthplace of Art Deco: France. And naturally, the new poster designed by graphic design company MinaLima and released in honor of Comic-Con pays homage to that fact.
Fantastic Beasts The Crimes of Grindelwald Poster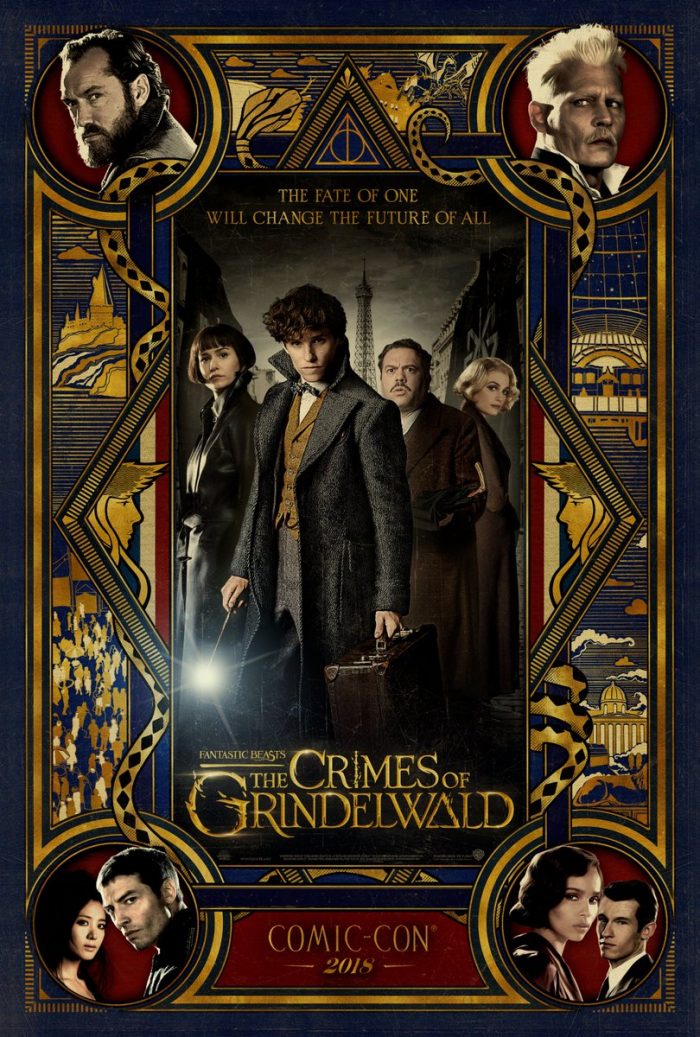 The central image is pretty familiar to fans of the 2016 Fantastic Beasts and Where to Find Them: it's our central quartet of Newt, Tina (Katherine Waterston), Queenie (Alison Sudol), and Jacob (Dan Fogler). But this time their clothes — and facial expressions — are a shade darker, as they find themselves embroiled in the beginnings of a Wizarding War against Grindelwald.
It's in line with what Redmayne tells Entertainment Weekly about a "darker" sequel for the clumsy magizoologist and his friends. "The most riveting aspect is the tonal change," Redmayne says. "It's darker and more rigorous and weaving in the Potter lore we're much more familiar with. So these characters you met in the first film are now in the wizarding world you understand more thoroughly. When I read [the script] it had these cryptic elements to it and it played like a thriller that made it a page-turner."
Surrounding the quartet are the allies and antagonists of the series, including some who fall in the gray area in between. The titular villain Grindelwald (Johnny Depp) sits at the top right corner, while his foe and Newt's former teacher Albus Dumbledore (Jude Law) smolders in the top left. We also see new looks at Ezra Miller as Credence (new haircut and all), Claudia Kim as an Unidentified Maledictus, Zoe Kravitz as Leta Lestrange, and Callum Turner as her fiance and Newt's brother.
Fantastic Beasts: The Crimes of Grindelwald also stars William Nadylam, Kevin Guthrie, Carmen Ejogo, and Poppy Corby-Tuech.
Here is the synopsis:
Magizoologist Newt Scamander joins forces with young Albus Dumbledore to prevent the devious Gellert Grindelwald from raising pure-blood wizards to rule over all non-magical beings.
Fantastic Beasts: The Crimes of Grindelwald opens in theaters on November 16, 2018.