A 'Stargirl' TV Show Is Coming To DC Universe, Written By Geoff Johns [Comic-Con 2018]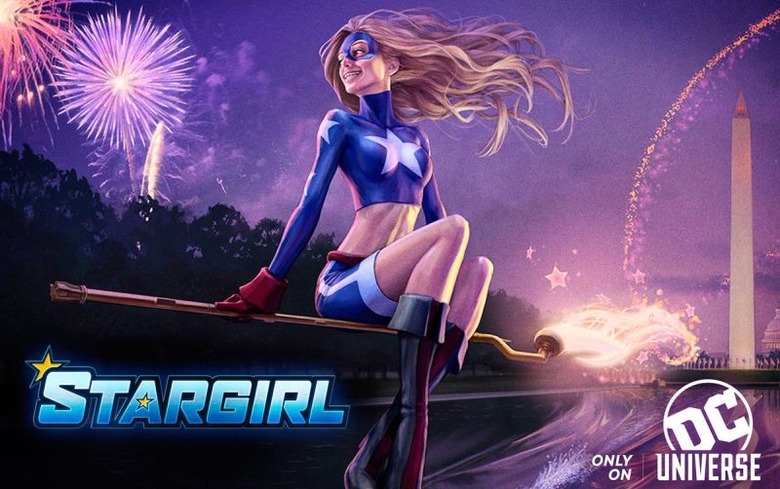 Last month, famed comic book writer Geoff Johns stepped down as the president and chief creative officer of DC Entertainment to spend more time as a producer with DC films and TV shows. He instantly announced that he's writing and producing DC's Green Lantern Corps movie, and now we know about another of his new projects: he's writing and producing a live-action Stargirl TV show for the fledgling DC Universe streaming service.
During a spotlight panel at San Diego Comic-Con, Johns revealed that he's working on a Stargirl TV show centered around the DC Comics heroine he created. In the series, the title heroine will reportedly be going "on a mission to bring back the legacy of the Justice Society!" The show debuts in 2019 and will have 13 episodes in its first season.
This project is of deeply personal significance to Johns, who based the comic version of Stargirl on his own sister Courtney, who died in a plane explosion in the 1990s. The character will be a high school student who teams up with the Justice Society to take down villains both past and present. The character has appeared in live-action before, popping up on both Smallville and Legends of Tomorrow, but she'll almost certainly be recast for this version of the show.
Johns will write and produce the show through his new Mad Ghost Productions company, alongside Greg Berlanti, the TV mastermind who's largely responsible for DC's domination of the small screen over the past ten years. Berlanti executive produces all of The CW's DC superhero shows, including Arrow, The Flash, Supergirl, and Legends of Tomorrow.
We just saw the first foul-mouthed trailer for Titans, a live-action comic series heading to DC Universe, and there's plenty more shows where that came from. In addition to Stargirl, there's a Swamp Thing series, a Doom Patrol show, the return of the animated series Young Justice: Outsiders, and a Harley Quinn animated series to boot.