'The Walking Dead' Season 9 Trailer: Rick's Days Are Numbered [Comic-Con 2018]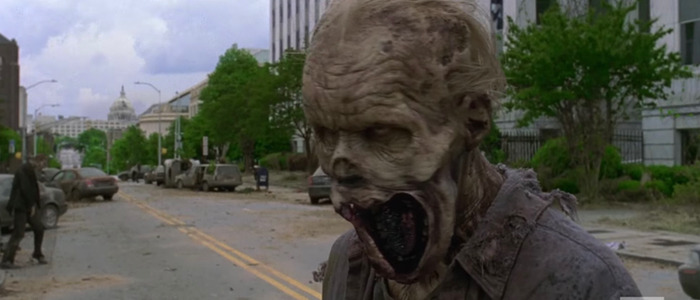 The Walking Dead, AMC Network's current pride and joy, continues to shamble forward like the rotting corpse of an undead walker. A new The Walking Dead season 9 trailer just debuted at San Diego Comic-Con International, and you can watch it below right now.
The Walking Dead Season 9 Trailer
Warning: general spoilers for season 9 lie ahead.
Just yesterday, The Walking Dead creator Robert Kirkman confirmed a report from months ago that stated that lead actor Andrew Lincoln, who plays former cop and group leader Rick Grimes, will be exiting the show during its upcoming ninth season. He'll appear in six episodes before bowing out, but it's still unclear whether he's going to be torn to shreds by the undead or if he'll be able to ride off into the sunset – maybe with Lauren Cohan's Maggie, since Cohan also has a six-episode-and-out deal in place for this year.
"[Lincoln] wants to do something special on the way out," Kirkman said yesterday. "We have something amazing planned. I wouldn't want to spoil anything, but anybody who has been a fan of his journey, who loves Rick Grimes, who loves the world of The Walking Dead, you're going to want to see what we do."
I gave up on The Walking Dead after the first season because I hated all the characters and the show moved at a far too sluggish pace to keep me interested otherwise. (I know, I know – I bailed before characters like Daryl and Michonne even showed up, and it sounds like I might have actually stood the chance of liking both of them.) But it's been fascinating to see how the show became a pop culture juggernaut and watching from the sidelines as more and more people eventually hit their limit with it and jump ship. Still, I hope season 9 turns things around and gives those who have stuck with the show everything they're hoping for. People seem to really love Daryl, and since actor Norman Reedus will be paid more than $20 million to become the main character on The Walking Dead, it seems like a few fans' dreams will come true...at least until they decide to shockingly kill him off, too.