Enjoy A Jump-Scare Laden Visit To 'Castle Rock' At Comic-Con 2018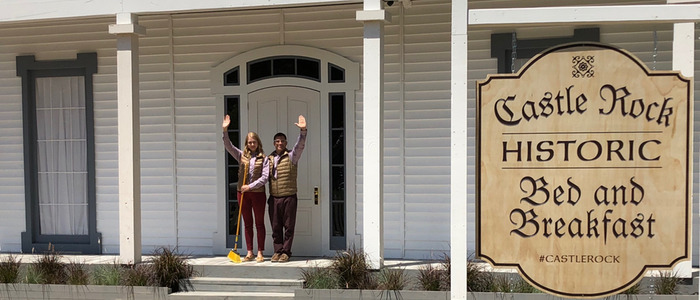 In honor of their big Stephen King-inspired series Castle Rock, Hulu put together a big, spooky San Diego Comic-Con 2018 activation that enables guests to check into the Castle Rock Bed and Breakfast and have the crap scared out of them.
A little bit of Maine was transported to San Diego for Hulu's Castle Rock activation. At the corner of Front Street and Island Avenue, you'll come upon a Victorian building with a warped sign planted firmly in the lawn. "Castle Rock Historic Bed and Breakfast" the sign reads, and the proprietors of said B&B are there to greet you – an identically-dressed couple with identical creepy smiles. With eerie, out-of-place sunniness (and never breaking character), the B&B owners give you a brief rundown of Stephen King's town – a cursed, doomed place, where the likes of Cujo and The Dead Zone took place.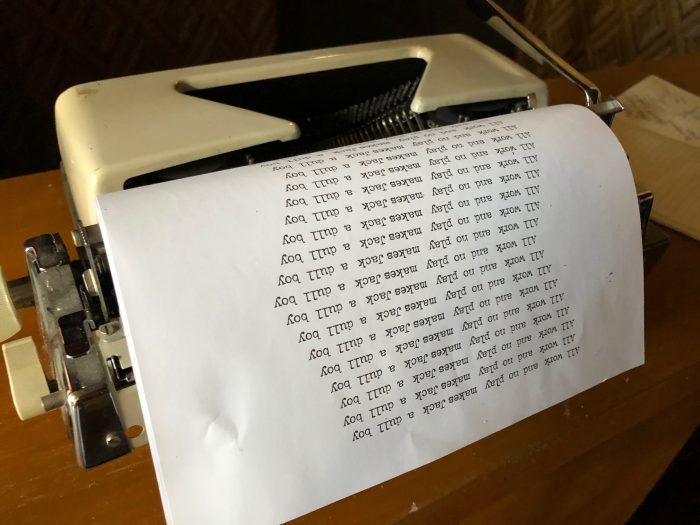 And then it's time to step into the building.
What will you find within? Well, if you've ever ventured into a carnival spook house, or a haunted attraction cobbled together for Halloween, you'll know what you're getting into. Room after room of actors jumping out of shadows to scream things at you. Things like "GET OUT, NOW!!!" and "HELP ME!" It's a hoot. It's also jarring to step out of the sweltering San Diego heat into the icy, air conditioned rooms of the Castle Rock Bed and Breakfast.
Entry into the building is loaded with King references: a typewriter sits on the registration desk with a single sheet of paper loaded within; one sentence is stamped over and over again on that paper, and if you've seen The Shining, you can guess what it is. A copy of It sits on a coffee table, and a room has a carefully placed red balloon (and also, inexplicably, a sewer grate).
But once you get beyond this entry, the Castle Rock activation turns muddled...unless you've seen the first few episodes of Castle Rock. Which you likely haven't, because it hasn't aired yet. Think of the building as a tease of what's to come – a room decked-out to look like a prison death chamber; another room designed to look as if you're underwater, looking up at a sunken car; still another room full of bald, nude mannequins. None of this will seem overly familiar to King fans, but all of it has a place in the show to come. Should you experience the installation and watch the show later, memories might come flooding back.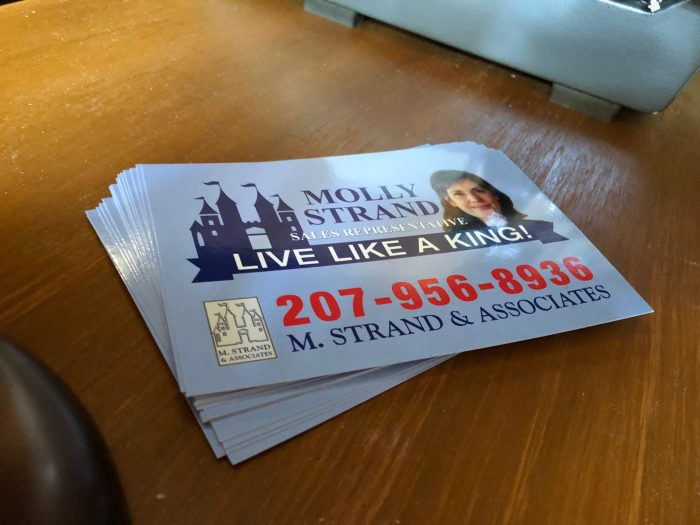 If there's a running theme within the haunted walls of the Castle Rock activation, it's this: Castle Rock is a bad, bad place that makes people do bad, bad things. This is the theme of the Hulu series as well – "People say it wasn't me, it was this place," one character tells us in the second episode. "And the thing is...they're right."
Should you be walking the grounds of Comic-Con, and longing to escape the heat and crowds to get a chill or two, check into the Castle Rock Bed and Breakfast, and see how long you can last. Your stay will be brief, but it will be memorable.