'Queen And Slim': Daniel Kaluuya And Lena Waithe Team Up For A 'Bonnie And Clyde'-Style Film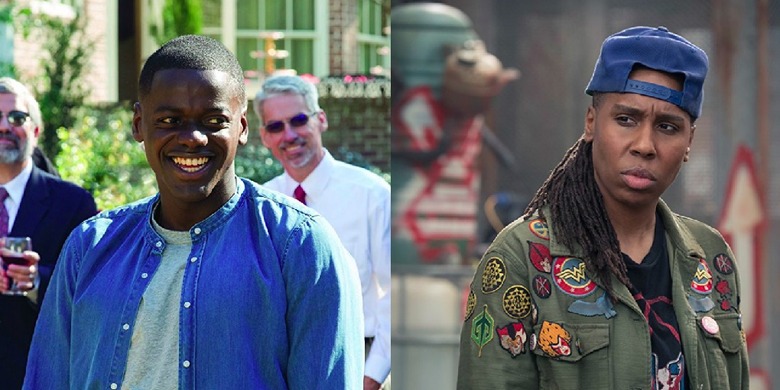 Daniel Kaluuya and Lena Waithe are ride or die for a new Bonnie and Clyde-inspired project, Queen and Slim. The feature film has been picked up by Universal after a heated bidding war over the script by Emmy winner Waithe and based on a treatment from best-selling author James Frey (A Million Little Pieces).
Hot off the heels of his Oscar-nominated role in Get Out and an appearance in the pop culture behemoth Black Panther, Daniel Kaluuya is set to star in Queen and Slim, according to The Hollywood Reporter. Queen and Slim will be financed by Brad Weston's Makeready and distributed by Universal, who won the rights to the package after a bidding war broke out.
Waithe and Frey wrote the story, and Melina Matsoukas, who has helmed HBO's Insecure and Beyonce's "Formation" music video, is set to make her feature directorial debut with Queen and Slim.
THR describes the script as a "Bonnie and Clyde story that centers on a black couple out on a first date whose night goes terribly awry. They end up killing a police officer in self-defense and, on the run, head to Cuba." So it's not much a seemingly glamorous story about a beautiful couple that rob banks, but a socially conscious take set firmly in modern day.
"To me, this is protest art," said Waithe. "It's about being black and trying to fall in love in a world that's burning down around you."
"It's a film that defines black love as a revolutionary act," Matsoukas added. "It shows that our union is the greatest weapon against the assault on black people in America."
Kaluuya has been attached to play the titular Slim in the feature, while Matsoukas, Waithe, and casting director Carmen Cuba are on the hunt for a "fresh face" to play Queen.
It's an exciting new project for Kaluuya, who has become one of the most promising new actors since crossing the pond from the U.K. to Hollywood and breaking big with Get Out. And Waithe, who has appeared on the big screen as well as the small screen with recent turns in Ready Player One, has become a prolific writer after her Emmy win for Master of None. It's a team-up made in heaven, and boy are we ride or die for this one.
Queen and Slim is set to start filming in January, and already has a release date of November 27, 2019, just before Thanksgiving.