'Insatiable' Trailer: Debby Ryan Craves Revenge While Wearing A Problematic Fat Suit In New Netflix Series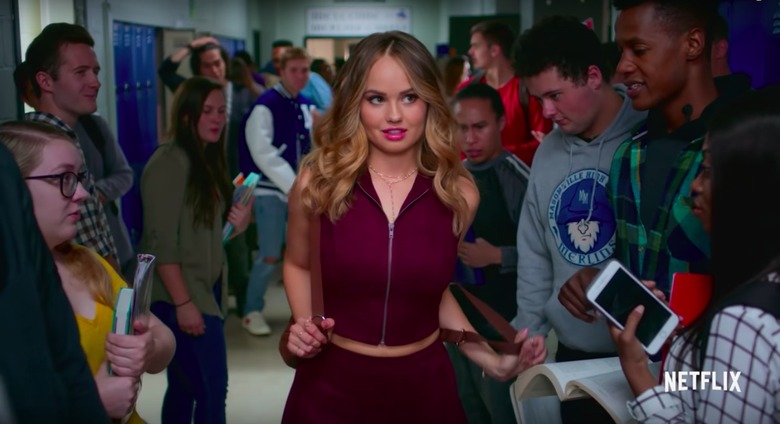 Disney Channel alum Debby Ryan is working hard to shed her child star image by...donning a fat suit? Ryan stars in Insatiable, a new Netflix dark comedy series about an overweight teen who suddenly loses weight and becomes the hottest girl in school. But what does she do with her newfound popularity? Take revenge against her former bullies by entering the local beauty pageant, of course. But it's not all smooth sailing for Ryan's "Fatty Patty" in the Insatiable trailer, nor is this series not without its share of controversy.
Insatiable Trailer
The Insatiable trailer would have you believe that Debby Ryan in a fatsuit (but still sporting perfectly coiffed hair) is the most bullied girl in school, dubbed "Fatty Patty" because teenagers are oh-so-clever. But her life changes dramatically when she gets punched in the face by a homeless man, forcing her to spend her summer in the hospital with her jaw wired shut. When she returns to school, she's hot, thin, and ready for revenge.
Insatiable seems to take its dark comedy label to heart, introducing an unlikable protagonist and even more unlikable antagonists who get what's coming to them when Patty goes around clocking people in their faces. But it's not hard to see where this trailer runs into problems — the show has been criticized for its "fat-shaming" plot, suggesting that one's life can become better if only they were to lose weight. However, co-star Alyssa Milano defended the series, stating, "We are not shaming Patty. We are addressing (through comedy) the damage that occurs from fat shaming. I hope that clears it up."Insatiable also stars Dallas Roberts as Bob Armstrong, a beauty contest coach who takes on Patty as his protege, Alyssa Milano as his wife Coralee, Christopher Gorham as Bob Barnard, Erinn Westbrook as Magnolia Barnard, Michael Provost as Brick Armstrong, Kimmy Shields as Nonnie, Irene Choi as Dixie Sinclair, and Sarah Colonna as Angie.
Here is the official synopsis for Insatiable:
"For years, Patty (Ryan) has been bullied, ignored, and underestimated by those around her because of her weight. But now that she finds herself suddenly thin, Patty is out for payback against anyone who has ever made her feel bad about herself. Bob Armstrong (Dallas Roberts), a disgraced attorney whose true passion is coaching beauty pageant contestant, is the only one who sees Patty's potential, and takes her under his wing — first as a legal client, and then as a pageant contestant whom he coaches toward becoming the top pageant queen in the country. But Bob and his wife Coralee (Alyssa Milano) have no idea how deep Patty's rage goes, or how far she will go to exact revenge on anyone who has ever wronged her. Bullies beware: payback's a bitch, revenge is sweet, and if you cross Patty, you'll be her next treat."
Insatiable premieres on Netflix on August 10, 2018.