'Cats' Movie Adaptation Will Star Taylor Swift, Jennifer Hudson, James Corden, And Ian McKellen (Really)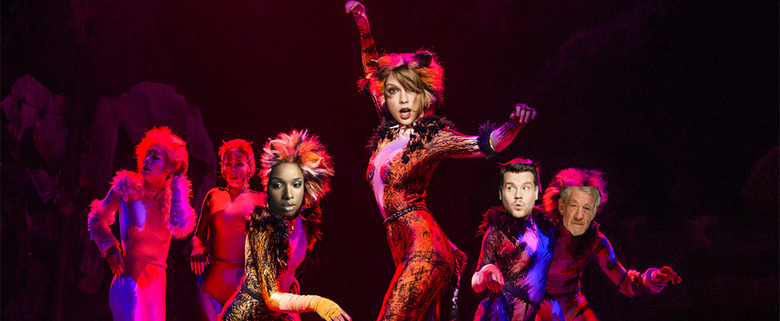 You're not going to be able to shake off this piece of news. Tom Hooper's long-gestating Cats movie adaptation has set its cast, and it's a who's who of pop stars, talk show hosts, and stage veterans – all of whom you'll really want to see don skin-tight catsuits.
The Cats movie cast has tapped Taylor Swift, Jennifer Hudson, James Corden, and Ian McKellen to star in Hooper's feature film adaptation of Andrew Lloyd Webber's hit Broadway musical.
Put away your claws, because Swift, Hudson, Corden, and McKellen are here to stay for the Cats musical, according to The Hollywood Reporter. Tom Hooper will direct this eclectic cast in the wildly popular Broadway musical about a "tribe of cats called the Jellicles and the night they make what is known as 'the Jellicle choice' and decide which cat will ascend to the Heaviside Layer and come back to a new life."
Here is the synopsis for the Cats stage musical:
This all-dance show's action is set on a gigantic rubbish dump which, after dark, becomes alive with cats of all types, shapes and sizes. Soon there are cats all over the place, including the auditorium, gathering for the Jellicle Ball during which one cat will be selected by the Jellicle Leader and allotted an extra precious life.
Based on Old Possum's Book of Practical Cats by T. S. Eliot, Cats is the fourth longest-running Broadway musical in history and is renowned for its frenetic visuals and music, and abundance of Lycra and leg-warmers that was the look of the day when it debuted in the '80s.
It remains to be seen whether Swift, Hudson, Corden, and McKellen will stay true to the spirit of the stage musical and don some skin-tight Lycra of their own, though I wouldn't be surprised. Whether Swift can pull off the double-feat of singing and acting at the same is another question.
Hooper, who scored dozens of awards and nominations for his feature film adaptation of another popular long-running musical Les Misérables, is back to inflict his style of intense close-ups on Cats. This will be Hooper's first film since 2015's The Danish Girl, and his first musical since 2012's Les Miserables.