'Nightflyers' Trailer: Step Into George R.R. Martin's Sci-Fi World [Comic-Con 2018]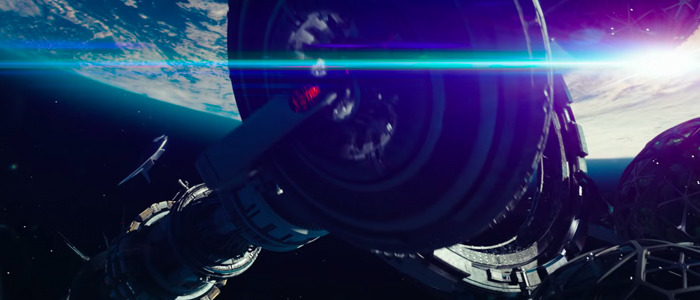 Years before publishing the detailed world of Westeros in the A Song of Ice and Fire novels, Game of Thrones mastermind George R.R. Martin wrote Nightflyers, a futuristic novella about a crew trapped inside a spaceship. Now the show is being turned into a Syfy series, and a new trailer just debuted at San Diego Comic-Con International. Check it out below.
Nightflyers Trailer
Much like the previous trailer, this new look at the show reveals that, unlike the goofy 1987 movie adaptation of this story, there's no camp at all on display this time around. This is a deadly serious adaptation, full of creepiness, quick editing, unnerving imagery, and people uttering ominous things like "there is something wrong with this ship!" In other words, it looks absolutely killer.
We'll have a full write-up of the Comic-Con panel soon, but in the meantime, we're content to just admire the production design on display here, the eerie tone, and the psychological warfare on display. The cold, endless depths of space are terrifying enough as it is, but once you introduce a spooky ship into the mix, things can only go downhill from there. The plot (people trying to save Earth enter a ship, and things go wrong quickly) isn't the only thing that seems familiar: showrunner Jeff Buhler is not even remotely shy about paying homage to sci-fi films like Event Horizon, Alien, and even 2001: A Space Odyssey (a figure walking toward the camera at the :53 second mark reminded me a bit of the circular layout in Stanley Kubrick's classic).
The cast includes Eoin Macken, David Ajala, Sam Strike, Maya Eshet, Angus Sampson, Jodie Turner-Smith, Brían F. O'Byrne, and Gretchen Mol. It was created by Buhler, the writer of other horror adaptations like The Midnight Meat Train and the upcoming remake of Stephen King's Pet Semetary.
Here's the show's official synopsis:
Set in the year 2093, Nightflyers is a psychological thriller that follows a team of scientists aboard the Nightflyer, the most advanced ship ever built, as they embark on a journey to find other life forms. Their mission takes them to the edge of the solar system, and to the edge of insanity, as they realize true horror isn't waiting for them in outer space—it's already on their ship.
Nightflyers debuts on Syfy in Fall 2018, and it'll arrive internationally on Netflix sometime after its U.S. premiere.