'Second Act' Trailer: Jennifer Lopez Scams Her Way To Her Dream Job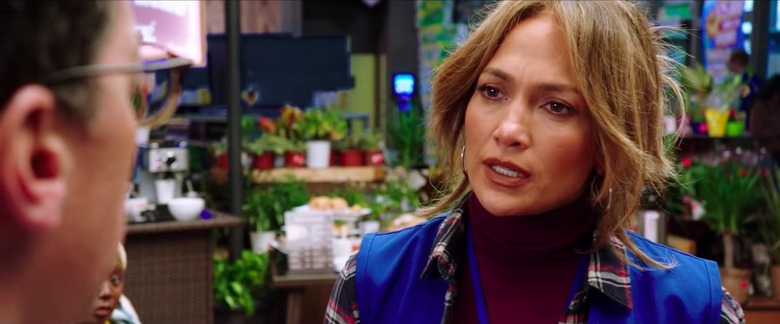 Just when you thought the rom-com was dead and buried in the ground, Jennifer Lopez swoops in to help revitalize it. The queen of rom-coms is back with Second Act, which is not a sequel to Sister Act, despite appearances. In what feels like a spiritual sequel to her other iconic rom-com Maid in Manhattan, Lopez stars as a working-class woman who scams her way to the top of a cushy corporate job.
Second Act Trailer
They say adult life is faking it 'til you make it, but Lopez takes that phrase literally in Second Act.
A 40-year-old woman stuck in a dead-end big-box store job, Maya (Lopez) decides to take her life into her own hands and apply for her dream job at Madison Avenue. But her request to a tech-savvy friend to juice up her resume a little bit turns into the biggest white lie of her life, as she lands the job thanks to a fake degree from Wharton, a stacked LinkedIn page, and a few Photoshopped pictures with the Obamas. But egged on by the encouragement of her friend (a very funny, top-notch Leah Remini) and a swanky new apartment, Maya decides to go all-in on the hoax — even if it means alienating her hunky boyfriend played by Milo Ventimiglia. Hey, when you got someone like Vanessa Hudgens looking up to you, you have to keep up appearances!
It's all very Working Girl meets Maid in Manhattan, but you know? We need this. The romantic-comedy genre is seeing a fresh new wave of movies on the big screen and on streaming services, and it's great to see Hollywood wise up to the fact that we're in dire need of more. And with Lopez back to her slapstick routine and flawlessly blown-out hair, perhaps this will be the beginning of a second act for rom-coms too.
Here is the synopsis for Second Act:
Second Act is a comedy in the vein of Working Girl and Maid In Manhattan. Jennifer Lopez stars as Maya, a 40-year-old woman struggling with frustrations from unfulfilled dreams. Until, that is, she gets the chance to prove to Madison Avenue that street smarts are as valuable as book smarts, and that it is never too late for a Second Act.
Second Act is scheduled to hit theaters on November 21, 2018.