'Aquaman' Toys Confirm He'll Wear His Comic Book Suit In The Movie, Plus A Look At Black Manta And More [Comic-Con 2018]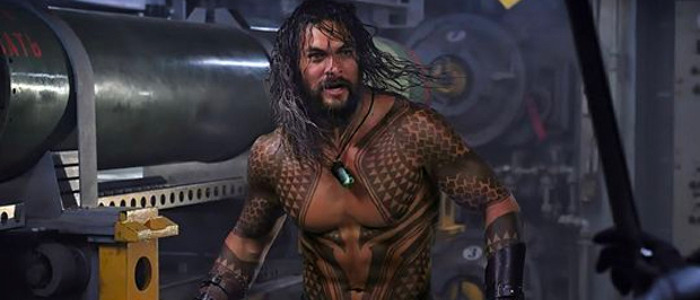 San Diego Comic-Con International is up and running, and we're about to get a barrage of new teases about a handful of highly-anticipated upcoming superhero movies. Warner Bros.' Aquaman is set to debut its first trailer in the coming days, but in the meantime, some toy displays on the show room floor have revealed more details about the upcoming movie.
Multiple Aquaman booths set up around the Comic-Con show floor previewed the toy lines tied to the DC comic book hero's solo movie, and in doing so, gave us some tantalizing hints at the film itself.
Although previous photos have given us a glimpse of the costumes worn by Black Manta (Yahya Abdul-Mateen II) and Mera (Amber Heard), their full looks in this film had not yet been revealed. But the toys and concept art revealed at Comic-Con give us a more comprehensive glimpse at their outfits — plus a surprising reveal that Jason Momoa will don Aquaman's classic comic-book costume (cheesy yellow shirt and all!) in James Wan's upcoming film.
Aquaman Costumes and Toy Displays
These toy displays show Aquaman almost exclusively in his classic comic-book outfit — bright yellow shirt, neon green pants, giant green gauntlets — save for the black underwear. This is a stark contrast to how we've seen Aquaman until now; in Justice League and in stills for his upcoming solo movie, Momoa is usually seen shirtless covered in his Polynesian tattoos or clad in his gold and green armor. Will he get an outfit change midway through the film that will result in him wearing the cheery classic costume we know and love (and sort of make fun of)? Hopefully that will be the case — it's a good way to distinguish Aquaman from the dark, desaturated grittiness that the DC Extended Universe has introduced so far, and is perhaps another sign of a tonal shift for the cinematic universe. They're comic book characters – let them go full comic book.
But that last image sprinkles a tiny heaping of salt onto these costume reveals. The toy details label the classic costumed Aquaman as "Multiverse Aquaman." Could this mean that this classic comic book twist on Aquaman is solely available as a toy? Or does this suggest a way more complex plot for Aquaman than we anticipated, one that involves multiple universes? It's intriguing, to be sure. But for now, just enjoy the thought of seeing Jason Momoa in a bright yellow shirt and green spandex.
Aquaman opens in theaters on December 21, 2018.