'Overlord' Trailer: Nazis Meet Zombies In J.J. Abrams-Produced World War II Movie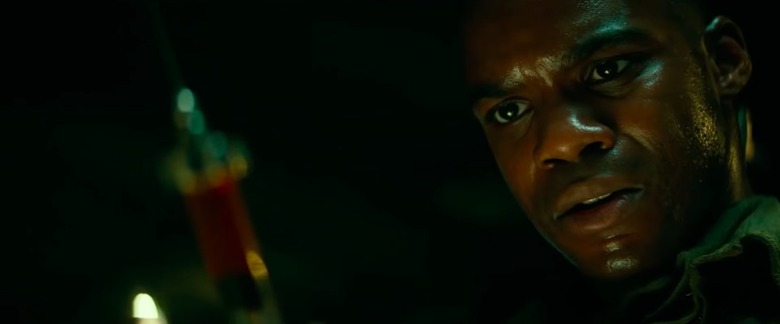 Bad Robot dives into historical horror with Overlord, the World War II zombie movie that is probably not a secret Cloverfield sequel. Touted as the company's first R-rated film, Overlord is directed by Julius Avery and produced by J.J. Abrams. Though it's been shrouded in mystery for the past few months, Abrams' famous mystery box finally opens with the first trailer.
Overlord Trailer
World War II soldiers, Nazis, zombies, and AC/DC blaring over the trailer — what's not to love? The Overlord trailer has a moody start, introducing a group of paratroopers who are dropped into a Nazi-occupied village in France, only to discover something much more sinister lurking there. The confused soldiers happen upon human experiments who contort their bodies and crave human flesh. That's where the trailer immediately kicks it into high gear. The suspenseful war film takes a drastic 180 in tone and turns into a zombie horror flick, as the soldiers attempt to escape the zombies and a woman takes out a flamethrower.
Overlord is written by Billy Ray and Mark L. Smith. The film stars Jovan Adepo, Jacob Anderson, Pilou Asbæk, Iain De Caestecker, John Magaro, Wyatt Russell and Bokeem Woodbine.
Abrams has described Overlord as "batshit crazy," and the trailer seems to support that. Bad Robot first debuted some footage at CinemaCon earlier this spring, where it had a rapturous reception. It was also at CinemaCon where Abrams denied that Overlord was a secret Cloverfield sequel, as many reports had led us to believe. Indeed, the trailer doesn't leave much room for a Cloverfield-style twist to be thrown in, and the film would probably be stronger on its own without a last-minute tie-in to a cinematic universe that is on the fritz after the poor reception to The Cloverfield Paradox.
Whatever the case, Overlord seems like a wild and bold new film from Bad Robot. Here's the synopsis for Overlord:
On the eve of D-Day, paratroopers drop behind enemy lines to carry out a crucial mission for the invasion. As they approach their target, they soon begin to realize there's more going on in the Nazi-occupied village than a simple military operation.
Overlord
opens in theaters on 
November 9, 2018.