'The Dark Knight' Swoops Back Into Limited Theaters For 10th Anniversary IMAX Re-Release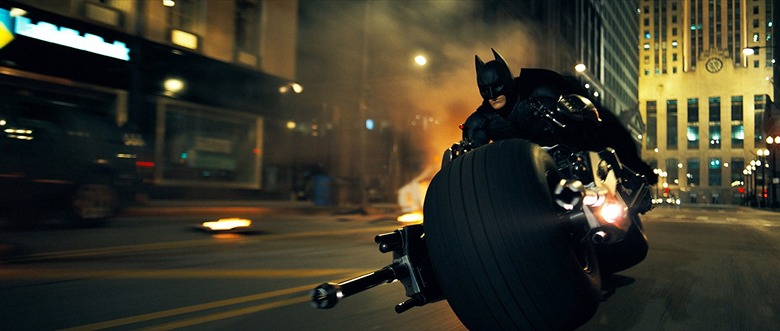 Ten years ago, The Dark Knight changed the way we would see superhero movies. And it also changed the way that IMAX cameras would be used in mega-blockbusters. In 2008, director Christopher Nolan made the radical choice to shoot select sequences from the movie in IMAX, making The Dark Knight the first major feature film to use IMAX 70mm film. It was a joy to behold in theaters — and now you can experience it again.
The Dark Knight is returning to IMAX 70mm theaters for a limited engagement in honor of the superhero film's 10th anniversary. But it's only in four select locations across the continent.
Warner Bros. is re-releasing The Dark Knight in four select IMAX locations for an exclusive one-week engagement, beginning August 24, 2018.
The Dark Knight will be playing for one screening a day at the following theaters:
AMC Universal Citywalk IMAX, Universal City
AMC Lincoln Square IMAX, New York City
AMC Metreon IMAX, San Francisco
Ontario Place Cinesphere IMAX, Toronto
Interestingly, The Dark Knight's initial IMAX release in 2008 frustrated Nolan. The director has always been a passionate defender of analog filmmaking and preserving shooting on celluloid film. After he became the first director to use IMAX cameras to shoot scenes in a feature film, Nolan expected Hollywood to follow suit — but they never did. Nolan told Entertainment Weekly last year:
"I think I always believed that if we won, if we succeeded, that would enable more filmmakers to carry on working that way and that would go some way to stop the electronics companies and studios from chipping away at the technical way in which myself and a lot of filmmakers want to keep working. And it didn't make a damn bit of difference."
Nolan has beat the IMAX drum repeatedly over the years, shooting The Dark Knight Rises, Interstellar, and Dunkirk with IMAX cameras, and famously lugging over a 70mm print of Stanley Kubrick's 2001: A Space Odyssey to Cannes to preach the wonders of celluloid.
But don't worry Nolan, your efforts have been appreciated. The IMAX bank heist that kicked off The Dark Knight remains one of the greatest action sequences captured on film in recent memory. And who can forget the gasps that echoed in the theater during the motorcycle chase scene?
Perhaps when audiences in these select cities see The Dark Knight in its IMAX 70mm glory again, they'll embrace Nolan's celluloid way of life. And to prepare for the IMAX re-release, check out /Film's series on The Dark Knight's legacy.