'Mission: Impossible' Stunts Video Features Tom Cruise Doing Crazy Things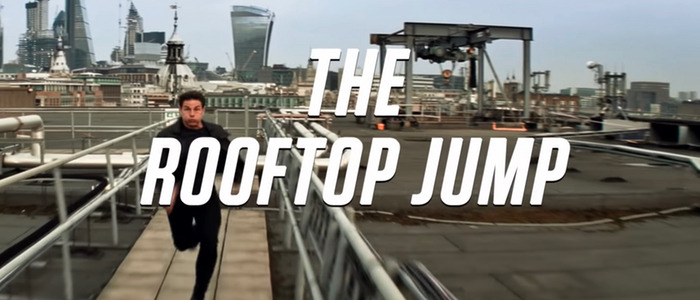 Tom Cruise loves risking his life for our entertainment, and no film series has awarded him the opportunity to do this more than Mission: Impossible. In each new Mission, Cruise increases the chances of premature death by throwing himself into dangerous situations. A new Mission: Impossible stunts highlight reel showcases all the crazy stuff Cruise did for Mission: Impossible – Fallout.
Mission: Impossible Stunts
I haven't seen Mission: Impossible – Fallout yet, but by all accounts it's loaded with the best action scenes of the franchise to date. Based on this video, that's probably true. Above, you can watch all the major stunts laid out in the film. Not only that, you can also learn the official name for each stunt, all of which sound like they would make pretty good album and/or band names:
THE LONG LINE
THE DOWNWARD SPIRAL
THE MOTORCYCLE CHASE
THE ROOFTOP JUMP
THE HALO JUMP
"The Long Line" stunt has Cruise hanging off of, and climbing up a rope dangling from a flying helicopter. Second unit director Wade Eastwood says that they "obviously" could've just done this stunt with a green screen, but of course, they decided to have Tom Cruise do it for real. Because the man can't say no to stunts. At one point during this stunt, Cruise actually fell, and director Christopher McQuarrie and co-star Rebecca Ferguson both thought Cruise had died. But nothing can kill Tom Cruise. Nothing.
"The Downward Spiral" involved Cruise piloting a spinning helicopter 360-degrees down towards the Earth, because again, he is a madman.
"The Motorcycle Chase" is exactly what it sounds like – Tommy Cruise riding a motorcycle. There was a pretty damn stellar motorcycle chase in the last Mission: Impossible film, Rogue Nation. But this chase has the actor riding a bike against traffic in Paris.
"The Rooftop Jump" is perhaps the most infamous stunt in the film, because this stunt resulted in Cruise breaking his ankle and/or foot. During the scene, Cruise is jumping from one building to the next via rooftops. He's supposed to slam into the side of a building after he makes the jump, but, as the actor explains, he stuck his foot out at the wrong moment, and then knew "instantly" that he had broken a bone. But rather than immediately rush to the hospital, Cruise stuck around and finished the shot. Because, again, he's crazy.
Last but certainly not least is "The HALO Jump" – a stunt we've already covered rather extensively. The stunt made Cruise the first actor to ever do a HALO (high altitude – low opening) jump. The actor fell from 25,000 ft to get the shot just right. Co-star Simon Pegg sums all of this up well at the end when he says: "They're genuinely risking their lives to entertain people. Which is incredibly valiant, and daft."
Mission: Impossible – Fallout opens July 27, 2018.