'Robin Hood' Trailer: Taron Egerton Annoys Ben Mendelsohn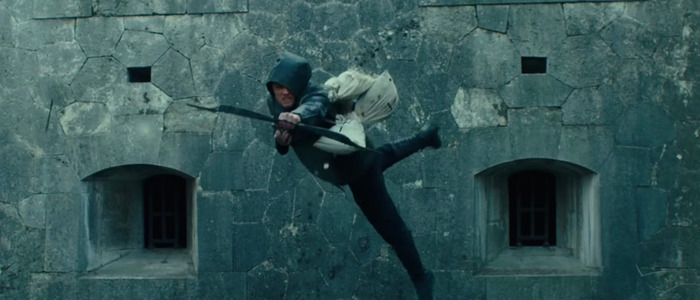 A new Robin Hood trailer is here, and it looks...kind of good? Look, we don't need a new Robin Hood movie. And the first trailer for this flick left a lot to be desired. But this new trailer is surprisingly fun, and hints that this latest adaptation of the classic legend is going to have a sense of humor rather than being another dark and gritty reboot. Watch the newest Robin Hood trailer below.
Robin Hood Trailer
When I first heard they were making yet another new Robin Hood movie, I couldn't help but roll my eyes. There have already been approximately ten bajillion Robin Hood movies, and we just had a recent one – 2010's Robin Hood, starring Russell Crowe, directed by Ridley Scott. When the first trailer for this new Robin Hood arrived, it appeared my blasé attitude was warranted – the footage did not look great. But you know what? This new trailer is good! The opening, where Robin (Taron Egerton) gets a lesson in archery and thievery from Little John (Jamie Foxx) is quick-paced and amusing, with some fairly funny banter between the two actors.
In fact, humor seems to be a big factor here. The first trailer made Robin Hood look like a dark, gritty reboot, whereas what's on display here is much more lighthearted. Of course, there's still some uninspired stuff on display, and in the end, this films look cut from the same cloth as Guy Richie's 2017 flick King Arthur: Legend of the Sword.
But Taron Egerton can be very charming with the right material, and professional bad guy actor Ben Mendelsohn – playing the Sheriff of Nottingham – is always a welcome presence, even if the film in question ends up being lackluster. I'm still not quite sure what era they're going for here, though. While the film looks firmly set in the past, there's a distinctly modern look and feel to everything here, and that might get a tad distracting.
Robin Hood, starring Taron Egerton, Jamie Foxx, Ben Mendelsohn, Eve Hewson, Tim Minchin, and Jamie Dornan, opens on November 21, 2018 – just in time for Oscar season! I'm just kidding, this film will receive zero nominations. But it might end up being a pleasant surprise.
Robin of Loxley (Taron Egerton) a war-hardened Crusader and his Moorish commander (Jamie Foxx) mount an audacious revolt against the corrupt English crown in a thrilling action-adventure packed with gritty battlefield exploits, mind-blowing fight choreography, and a timeless romance.