'Alita: Battle Angel' Trailer: Robert Rodriguez And James Cameron Bring The Manga Character To Life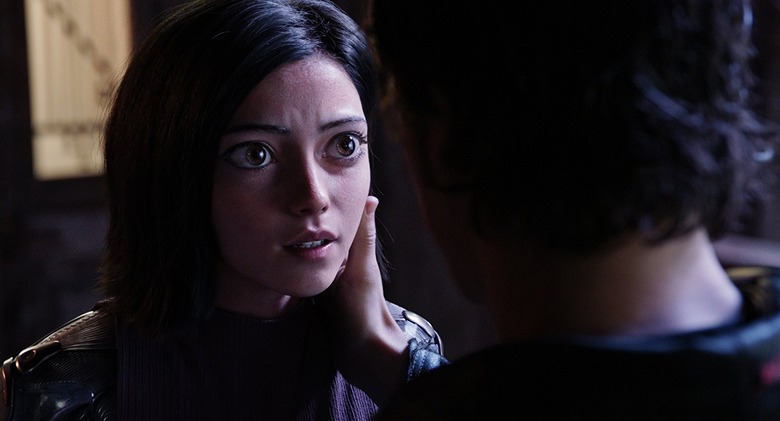 Robert Rodriguez and James Cameron team up for Alita: Battle Angel, a film that blends a cartoon character with human actors. Okay, Alita isn't really a cartoon. She's a CGI-enhanced character played by Rosa Salazar via motion capture. Still, there's something a bit...off about watching Alita interact with a bunch of human characters. Decide if you agree by watching the latest Alita: Battle Angel trailer below.
Alita: Battle Angel Trailer
Based on the manga by Yukito Kishiro, Alita: Battle Angel follows a scientist (Christoph Waltz) in a distant-future Earth who discovers a damaged cyborg named Alita (Rosa Salazar) and decides to take her under his wing as a surrogate daughter. The cast includes Mahershala Ali, Keean Johnson, Jennifer Connelly, Ed Skrein, Michelle Rodriguez, and Jackie Earle Haley.
The hype around Alita: Battle Angel mostly centers around its impressive team-up of producer James Cameron and director Robert Rodriguez, as well as the big 'ole anime eyes that Rodriguez controversially chose to CGI onto Salazar's face. Rodriguez intended the exaggerated eyes as a nod to the story's anime roots, but the uncanny effect of the large anime eyes ended up overshadowing any other conversation about the movie. "We really wanted to honor that tradition and see that look standing next to any human character," Rodriguez explained after the first trailer's release. Perhaps Rodriguez embracing of digital video and Cameron advancing of groundbreaking technology could work in the film's favor.
Cameron added:
"Battle Angel, I think, is a science fiction movie that begs the question 'What does it mean to be human?' It takes place in a future world, a world that has cyborgs, but are you human if you have a mind, if you have a heart, if you have a soul? It's a journey of a young girl who tries to discover herself and what she learns upon that journey."
Here is the official synopsis for Alita: Battle Angel:
Set several centuries in the future, the abandoned Alita is found in the scrapyard of Iron City by Ido, a compassionate cyber-doctor who takes the unconscious cyborg Alita to his clinic. When Alita awakens, she has no memory of who she is, nor does she have any recognition of the world she finds herself in. As Alita learns to navigate her new life and the treacherous streets of Iron City, Ido tries to shield her from her mysterious past.
Alita: Battle Angel opens in theaters on December 21, 2018.