'Les Misérables' First Look: You Won't Forget David Oyelowo, Dominic West, And Lily Collins In The PBS Masterpiece Miniseries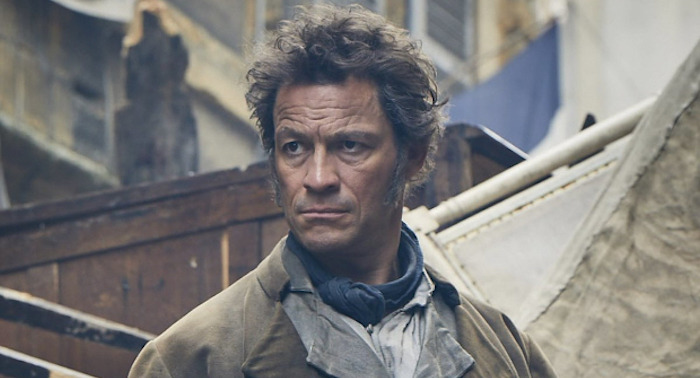 Les Misérables is coming to Masterpiece Theatre. However, it won't be the popular musical version that you fondly refer to as "Les Mis," but a straight adaptation of Victor Hugo's classic novel. So how does the cast of the PBS Masterpiece-BBC adaptation look in the Les Miserables first look images? Not too different from how they look in the musicals.
Masterpiece is teaming with BBC One to adapt Les Misérables into a six-part miniseries. First announced in 2016, the miniseries has now released the first images of the star-studded cast, including Dominic West (The Affair) as the bread thief Jean Valjean, Lily Collins (The Last Tycoon) as Fantine, and David Oyelowo (Selma) as the antagonist Javert.
Les Miserables First Look
Those are indeed costumes that look specific to the 19th century period in which Hugo's novel takes place. West's Jean Valjean looks appropriately dirty, while Oyelowo looks crisp as the single-minded police inspector Javert. Lily Collins plays Fantine, who Anne Hathaway won an Academy Award for depicting in Tom Hooper's 2012 musical film.
Not pictured are Olivia Colman (Broadchurch) and Adeel Akhtar (The Night Manager), who round out the cast as Mr. and Mrs. Thénardier.
From the looks of it, these cast pictures come from the earlier part of Hugo's novel, which chronicles Jean Valjean and Javert's cat-and-mouse relationship set to the backdrop of an impoverished France. But Jean Valjean's life is irrevocably changed when he meets the working class woman-turned prostitute Fantine and her child Cosette. But later on in the series, West and Oyelowo will be joined by Ellie Bamber (Nocturnal Animals) as Cosette, Josh O'Connor (God's Own Country) as Marius, and Erin Kellyman (Raised By Wolves) as Eponine.
The new Les Misérables is penned by Andrew Davies, who previously helmed 2016's War & Peace miniseries, and is directed by Tom Shankland. When the adaptation was first announced in 2016, it was slightly controversial to forgo adapting the popular musical in favor of Hugo's source material, and Davies stepped up defend his choice:
"Les Misérables is a huge iconic title. Most of us are familiar with the musical version which only offers a fragmentary outline of its story. I am thrilled to have the opportunity of doing real justice to Victor Hugo at last by adapting his masterpiece in a six-hour version for the BBC."
A premiere date for the PBS adaptation of Les Misérables has not yet been revealed.