Bruce Willis Says 'Die Hard' Is Not A Christmas Movie, Is Wrong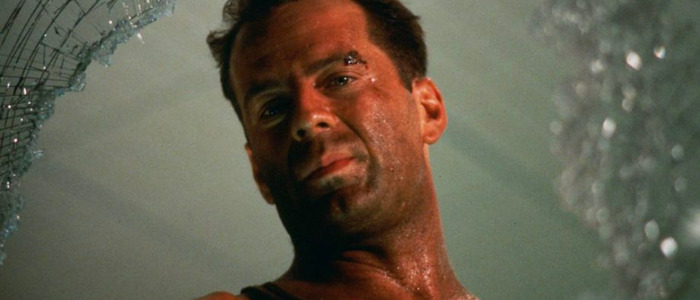 Bruce Willis recently woke up from one of his lengthy naps to attend The Comedy Central Roast Of Bruce Willis, where friends and well-wishers took to the stage to insult him. Willis then stepped up to the podium himself and committed the ultimate faux pas: he declared that his classic action film Die Hard is not a Christmas movie. You're wrong, Bruce Willis.
Comedy Central continues to perform their infamous "roasts", where audiences marvel as celebrities get utterly wasted on hard liquor and insult each other for a few hours. The celebrity roast is a time-honored tradition, going all the way back to the Friars Club of the 1940s, and Comedy Central has inexplicably kept it going well into the 21st century. The latest bigwig to get roasted is none other than Bruce Willis, an actor you might remember from the hit film Mercury Rising.
The Willis roast doesn't air until the end of the month, but The Hollywood Report has some details about what went down. For instance: basketball person and nuclear war negotiator Dennis Rodman was there, and was promptly booed by the audience after he made a joke about his bff Kim Jong-un. There were also plenty of jokes about Donald Trump, Harvey Weinstein and Kevin Spacey, all of which I'm sure were side-splitting.
But the biggest joke of all came from Willis himself. At the end of every roast, the roastee gets to take the stage and defend themselves through slurred speech and bitter rage. Willis stepped to the podium and delivered some barbs, and then he decided to take things to the extreme and declare that Die Hard, arguably his most famous film, is in fact not a Christmas movie.
I know it's July, and talking about Christmas right now feels utterly pointless and silly, but let me just say this: Bruce Willis is wrong. Yes, I know – he starred in the film, and all of its sequels (all of which are bad except Die Hard With a Vengeance), so I suppose he has some insider perspective. But let's get real here: Die Hard is a Christmas movie. So is Die Hard 2, which takes the whole Christmas thing even further and adds snow. In both films, Willis' character John McClane learns the true meaning of Christmas: saving his family by killing people.
Of course, Willis was likely just having a laugh and ribbing his fans. In the grand scheme of things, I doubt he even cares about how audiences classify Die Hard. If you were to walk up to Bruce Willis on the street and say, "Hey, Bruno, Die Hard is actually a Yom Kippur movie!", he'd likely say, "Sure, great, whatever floats your boat."
The Comedy Central Roast Of Bruce Willis airs on Comedy Central July 29, 2018.
The Comedy Central Roast Of Bruce Willis