Jim Jarmusch Is Making A Zombie Movie With Bill Murray, Adam Driver, And Tilda Swinton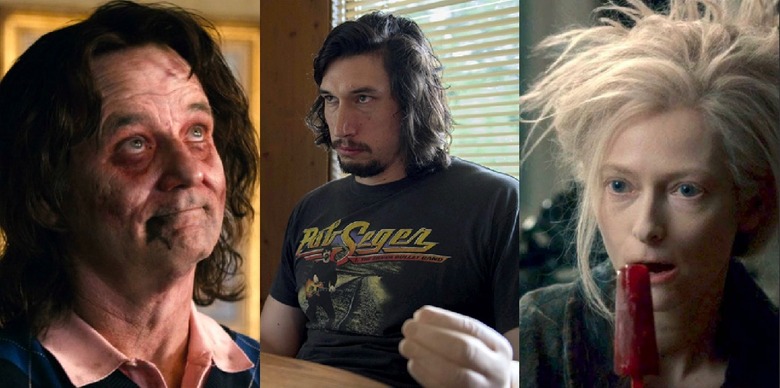 Jim Jarmusch has already directed a modern classic about vampires, so why not zombies? The Paterson and Only Lovers Left Alive director has announced that his next project will be a zombie comedy titled The Dead Don't Die, featuring a who's who of past Jarmusch collaborators, including Bill Murray, Adam Driver, Tilda Swinton, Steve Buscemi, and Chloë Sevigny.
Jim Jarmusch is currently shooting his new zombie comedy The Dead Don't Die for Focus Features, the studio announced in a press release.
This will be the writer-director's third feature film with Focus following 2005's Broken Flowers and 2009's The Limits of Control. But that won't be the only familiar element for The Dead Don't Die. The main cast members of The Dead Don't Die have all starred in Jarmusch films before, including Bill Murray (Broken Flowers), Adam Driver (Paterson), Chloë Sevigny (Broken Flowers), Tilda Swinton (Only Lovers Left Alive, Broken Flowers), and Steve Buscemi (Mystery Train).
The only major cast member to have not worked with Jarmusch before is actress-singer Selena Gomez, who makes her Jarmusch project debut with The Dead Don't Die.
Murray is probably the most frequent Jarmusch collaborator, having starred in both Coffee and Cigarettes and in Broken Flowers. And this will also be a second go-around at the zombie genre for Murray, who made a hysterical cameo in 2009's action-comedy Zombieland. Murray seems excited for his latest team-up with Jarmusch, accidentally letting some details slip while speaking to Philly.com in March:
"I've got a good job coming up. Brace yourself: It's a zombie movie. Jim Jarmusch has written a zombie script that's so hilarious and it has a cast of great actors: Rosie Perez, Daniel Craig. It's titled The Dead Don't Die, and it shoots over the summer. But, no, I will not play a zombie."
It seems that the cast has changed since then, as Rozie Perez and Daniel Craig are not included in the official announcement that Focus Features released today (or else Murray was just messing with us).
Production for The Dead Don't Die is currently underway in New York, where The Daily Mail spotted Gomez, actor Austin Butler, Driver, and Murray shooting a gruesome, blood-soaked scene.
No release date has yet been announced for The Dead Don't Die.