'Glass' First Look: Samuel L. Jackson Can Still Rock The Hell Out Of That Purple Suit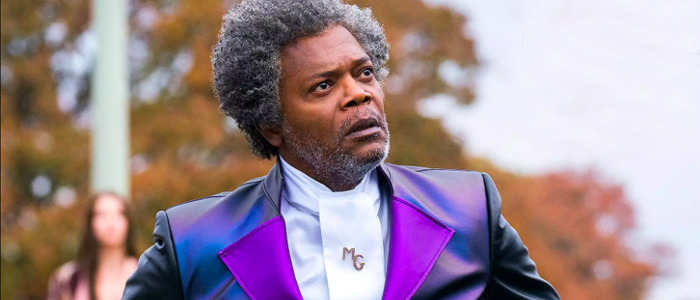 If Warner Bros. is looking for yet another Joker movie, perhaps they'll be interested in Samuel L. Jackson to play a new version of the Clown Prince of Crime. One thing's for sure: Jackson still looks incredible in a purple suit.
Universal Pictures has released a handful of new photos from Glass, M. Night Shyamalan's upcoming superhero sequel to Unbreakable and Split, and one of them places Jackson's Mr. Glass, Bruce Willis's David Dunn, and James McAvoy's Kevin Wendell Crumb in the same room. Take a look below.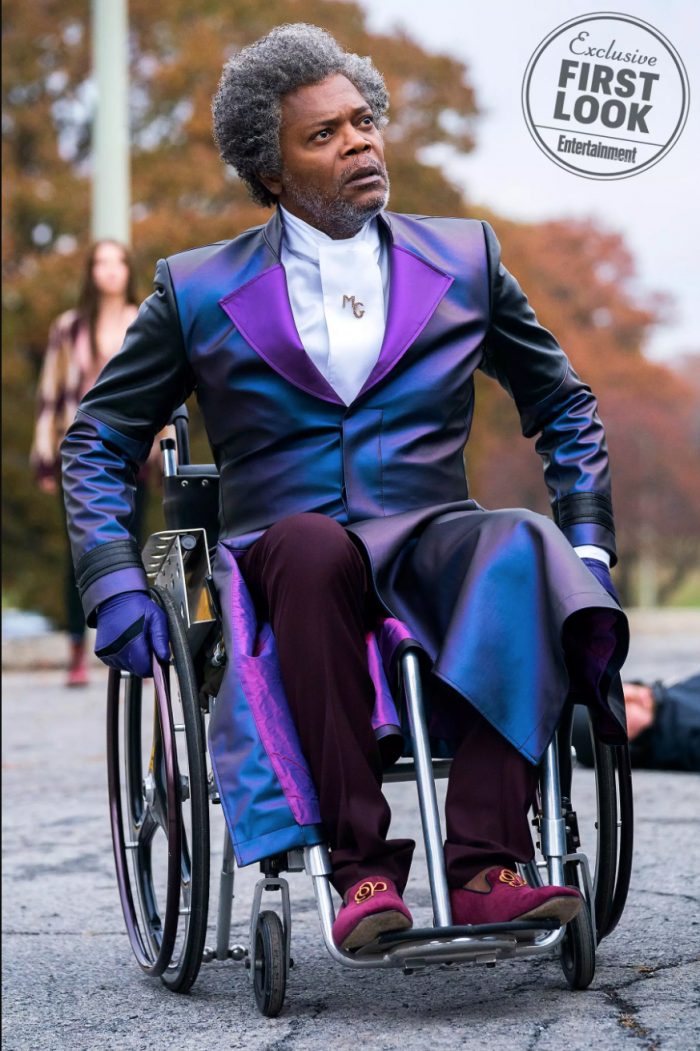 Entertainment Weekly has the official Glass first look photos, and before we go any further, just take a minute to bask in the glow of Jackson wearing that costume again. How awesome is that? That suit is just killer, and the color looks like a mixture between something a member of royalty would wear and one of those ridiculous shimmering paint jobs that used to be popular for a minute on cars in the early 2000s. It's perfectly comic book-y, and Jackson still manages to pull it off with aplomb.
There's also a new still that recalls the Glass teaser poster we saw a couple of weeks ago, and this one places all three of the superhero/supervillain characters in the same room opposite Sarah Paulson's psychiatrist character. "She deals with people that think they're comic-book characters," Shyamalan told EW. "It's kind of the modern-day equivalent of 'I think I'm Jesus' or 'I'm an emperor.'"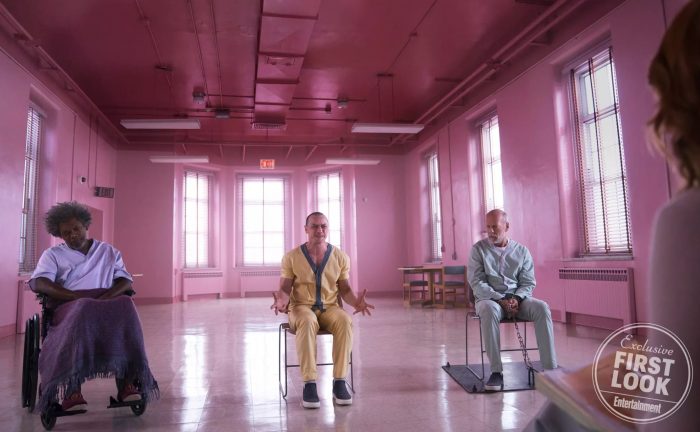 It's interesting that David Dunn, who we've always assumed to be the hero of this story, is the only one chained up and restrained here. I wonder why that is? And McAvoy's face, contorted and straining, reminds me yet again how incredible he was in Split portraying multiple characters who inhabit the same body. McAvoy reveals that the audience will get "to spend some time with some new people that live inside Kevin" in addition to some of the personalities we saw him play last time around.
There are a few more photos in the full piece, including a look at Anya Taylor-Joy's returning heroine Casey Cooke, but you can check those out over at EW.
Universal is bringing the movie with them to this year's San Diego Comic-Con next week, and /Film will be on hand to bring you any important updates coming out of the convention. Glass hits theaters on January 18, 2019.